About Antigua Food
Three things make Antigua stand out among the other Caribbean countries- The culture, the scenery, and the cuisine. And when you make up your mind to visit this tropical paradise, come with an open mind and an appetite for authenticity. Exploring any new country means you get to immerse yourself in all the things that make it unique, from the culture to the people, to nature, and of course, the cuisine. Antigua and Barbuda food can be described as a mix of authentic Antiguan culture with regional and international flairs.
Most of the influence is from West Africa but because of the very diverse population, some dishes are influenced by Asia, India, Syria, and a variety of Caribbean countries. So, what are some of the best Antiguan dishes? And where can you find them on the island? In this article, we will explore tradition, evolution, and creativity in the Antigua and Barbuda food culture.
Antigua traditional Dishes
Fungi and Pepperpot
Fungi or cou-cou as it is called in Barbados is made using two simple ingredients: cornmeal and okra, and of course salt or seasoning of your choice. For Antigua's national dish, Fungi is accompanied by pepperpot– a delicious meat soup containing different ground provisions and vegetables including potatoes, okra, and eggplant and meats such as chicken, turkey, and pork.
This may just be one of the strangest dishes you have tasted, but believe us, it is delightful. Fungi is enjoyed with any meat or fish, but is most popularly served with stewed saltfish or codfish and can be found at any local restaurant on the island. Fungi and saltfish is and is a delicacy enjoyed year-round but is traditionally served during the country's independence celebrations in October.
Ducana
Next on the list of authentic Antiguan dishes is Ducana, and take it from us, this one might just be the best. Ducana is quite like Mexican tamales and is made using grated coconut and sweet potatoes, cinnamon, essence and nutmegs, coconut milk, and sugar. After the mixture is prepared, it is wrapped in either aluminum foil or banana leaves and boiled until firm.
Ducana, like Fungi, can be served with any meat or fish but is best enjoyed with stewed Saltfish and will have your taste buds begging for more. It can be found at any local Antiguan restaurant.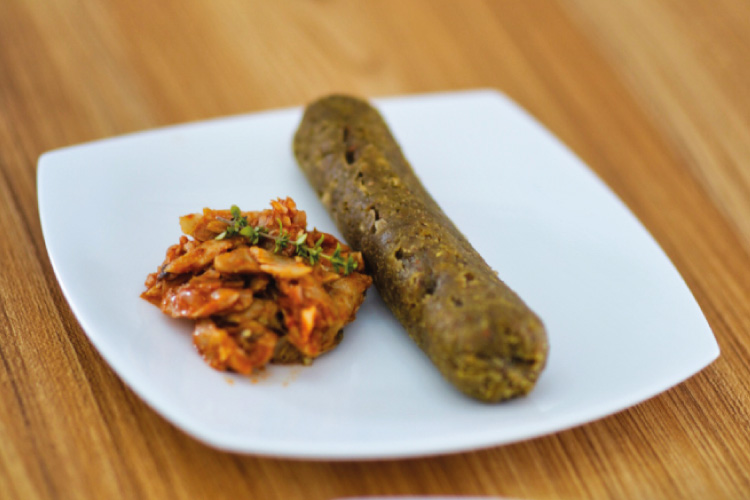 Conch
We must warn you, if you are a seafood lover, then you may not want to leave Antigua after tasting the many mouth-watering seafood dishes the island has to offer. Among them is Conch, a delectable shellfish with a soft texture and a distinctive taste. With so many beaches, it is no wonder that Conch and other similar unique shellfish are in abundance in Antigua's waters.
Conch is usually prepared in Seafood chowder or as a curry (Curry Conch), but can also be enjoyed in Ceviches, or deep-fried in batter. Chefs in Antigua make it their priority to create tasty, uncommon dishes using local ingredients.
Goat Water
Goat water is a popular Caribbean dish that can be found mainly at local restaurants and road vendors. Fun fact: It is sometimes referred to as Mannish Water because of its acclaimed aphrodisiac qualities. Goat water is a very light soup, made from goat meat, dumplings, potatoes, and firm vegetables.
Ground Provisions
Ground provisions are a popular Caribbean delicacy. These include tubular roots, vegetables, and some fruits. Among the list are Eddoe, Yams, Breadfruit, Plantain, Green BananaSweet, and Irish Potatoes, Dasheen, Cassava. Provisions are usually boiled and sometimes roasted. They can also be incorporated into pies or salads. They are usually served as a side to stewed meat or fish. Ground provisions have been known to improve metabolic wellness and provide Iron and Niacin (vitamin B3).
Some other popular dishes that you can enjoy in Antigua include:
Jerk Chicken
Roti
Seafood chowder
Boiled Crabs
Seasoned Rice
Relocate Antigua offers private chef services in Antigua, and our skilled local chefs will prepare whatever local dish you would like to try. Get in touch with us today!
Popular Antiguan Snacks and Desserts
Antiguan Bread Pudding
You've probably had bread pudding before, but Antiguan-style bread pudding is a dessert that will have you begging for more. This is a delectable baked sweet dessert with British influence that is prepared using bread, milk, spices and if you like, a rum sauce topping.
Tamarind Balls
Tamarind is one of the fruits that grow in abundance in Antigua, and on your Antigua island tour, you will surely prove this yourself. The fruit is either sweet or sour, but the trees which bear the sour Tamarind can be considered wild plants, as they grow everywhere on the island. Luckily, Antiguans do not let sour tamarind go to waste; by coating the fruit in white or brown sugar, Tamarind balls are created and sold in tiny packages at various stores and shops across the island. Sweet tamarinds are enjoyed and are available at most supermarkets across the island.
Johnny Cakes
Johnny Cakes, bakes, fried dumplings, no matter what you call them, are delicious snacks that can even be enjoyed as a side dish. A mixture of flour, sugar, and a raising agent is deep-fried in oil and served hot. When buying local food in Antigua, you will most likely be given the option of Johnny Cakes as a side dish.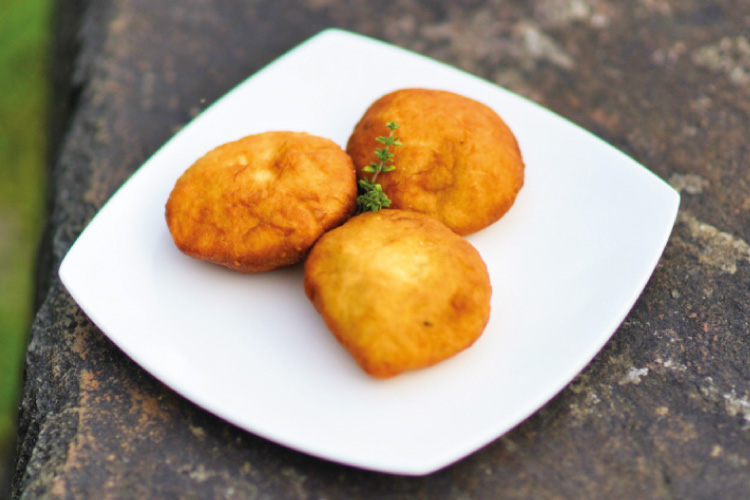 Fudge
Fudge is a delectable Caribbean dessert that is made using coconut milk or cow's milk. It is usually infused with different flavors including pineapple, tamarind, and even rum.
Other popular snacks include:
Rice pudding
Peanut brittle
Antigua black pineapple
Fruit tarts
Rock cake (Coconut cake)
Antiguan Beverages
Wadadli Beer
First on our list is the national lager of Antigua and Barbuda. Wadadli Beer is sweet and best enjoyed cold- the perfect drink to take to the beach or just simply unwind after a long day
Rum Punch
If it's one drink you will be encouraged to try at any bar or restaurant in Antigua, it's rum punch. Rum punch is a drink made using rum and fruit juice and is said to be the most popular drink on the island.
Best Restaurants in Antigua
As we mentioned at the start, Antigua's cuisine is influenced by several cultures, making the choices diverse and exciting. With that being said, here are some of the best restaurants in Antigua:
Casa Roots
Sheer Rocks
Colibri Bistro Bar and Lounge
Catherines Café
Coconut Grove Bar and Restaurant
Ana's on the Beach
Besides restaurants, there are also many cookshops across the island where you can find a mix of fast food dishes like burgers, French fries, to local favorites like jerk and barbeque chicken. Some cookshops also sell full traditional meals such as those listed above.
Vegan and Vegetarian Food In Antigua
Antigua offers many dining options for vegans and vegetarians. Popular meals include:
Chunks (Tofu)
Scrambled Ackee
Ackee Patties
Callaloo
Peas Balls
Vegan wraps
Vegan or Vegetarian Trinidadian Doubles
Grilled Eggplant
Plantain Lasagna
If you're wondering where to eat vegan food in Antigua and Barbuda, here are some popular locations:
Relocate Antigua also offers bookings and reservations services and we will find you the best restaurants in Antigua so that you bask in the plethora of flavors of Antigua and Barbuda food. Give us a call!