With a beach for every day of the year, Antigua offers beautiful sandy spots where the waters are crystal clear and the choices are endless. Discover some of the best beaches in Antigua.
Choosing your favourite Antigua beaches could take you quite some time to discover; with so many beaches located around the coast of the island, finding the nicest beach in Antigua could take you up to a year to locate! The coast of Antigua offers blue waters, water sports, mile long stretches of white sand beaches; which are open to the public, some accessible by cruise ship and other which are connected to bay resorts. Our insider tips will guide you towards the best beach in Antigua based on exactly what you're looking for.
The perfect beach for you
Strapped for time? Our at-a-glance guide to finding your dream Antiguan beach gives you a quick idea of where to head…
Head to Ffryes Beach for undisturbed peace and quiet and the chance to reconnect with nature away from the crowds.
Half Moon Bay and Great Bird Island have feathered treats in store for you…
Snuggle up on Coco Beach for some uninterrupted one-on-one time and easy access to a premium resort complete with high-end spa.
Jolly Beach has all the high-powered water sports action you need.
Green Island is where the action's at.
If you have a little more time to spare, then read on for a closer look at the many beaches Antigua has to offer!
How many beaches are in Antigua? A beach for every day of the year…
One of the greatest features of the Antigua beaches map is that you can go through the entire list and have enough beaches to visit every day of the year. 365 beaches can be found along the coast of Antigua and Barbuda as well as the Main Islands belonging to the sovereign state – if you consider the addition of Hammock Bay Cove; the total count would reach 366, giving you one extra beach to chill in the sun.
These beaches offer a variety of activities such as sunbathing, water sports and even excellent spots to enjoy a meal or grab a few drinks while relaxing in the sun. Whenever our clients at Relocate Antigua want to discuss the beaches of Antigua, we're always excited to share our favourites; but one of the questions we get asked most frequently is; "Is the water clear in Antigua?"
Our answer, every single time is; "Yes! They absolutely are!" The sapphire clear water in Antigua and Barbuda is fantastic; with blue waters and white sand beaches, the beaches on the island are perfect for snorkelling, scuba diving and freediving. Surrounded by palm trees, Antigua's paradise on earth can be accessed all across the islands. So where is the best beach in Antigua?
Which part of Antigua has the best beaches?
Finding the best beach on the Antigua map in a short amount of time requires expert advice. At Relocate Antigua, we organise personal relocation services that require us to know the ins and out of the gorgeous Caribbean islands, especially Antigua and Barbuda. While visiting all the 365 beaches on the islands is a great way to find your favourite; you and your family or friends probably won't manage to see them all on your visit to Antigua and Barbuda.
We've curated a list of the best beaches in Antigua based on their geographical location and their top reasons to visit. Discover the calm and protected waters of the Caribbean Sea with our top 10 Antigua beaches.
Northwest Coast
The northwest coast is home to some of the best beaches near St John's, Antigua. The northwest coast features some of the most popular beaches on the map:
1) Dickenson Beach,
2) Runaway Beach,
3) Fort James and Deep Bay
4) Hawksbill Beach (including the stunning Eden Bay)
These beaches can be enjoyed by means of adventure or absolute luxury. Your choice to discover the best public beaches in Antigua may require some trekking, but the bay resorts in the northwest area can really help you to unwind and live on Caribbean time. Here are our top choices on the northwest coast: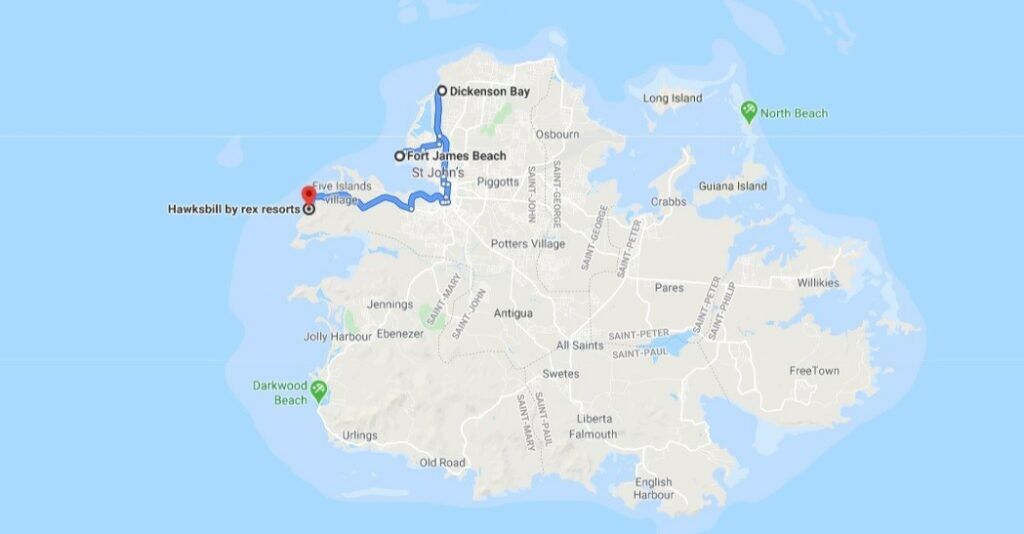 Dickenson Beach
Dickenson Bay; or Dickenson Beach, is the perfect location to sit on the warm white sand beach and take in all the sunshine. Dickenson Beach is a 20 minute drive away from the V.C Bird International Airport and quite central on the northwest coast.
This is one of the best beaches in Antigua for people watching; most visitors to this beach are outgoing and socialise at the Buccaneer Beach Club or Sandals Grande Antigua – two prime spots for great cocktails and beach bites.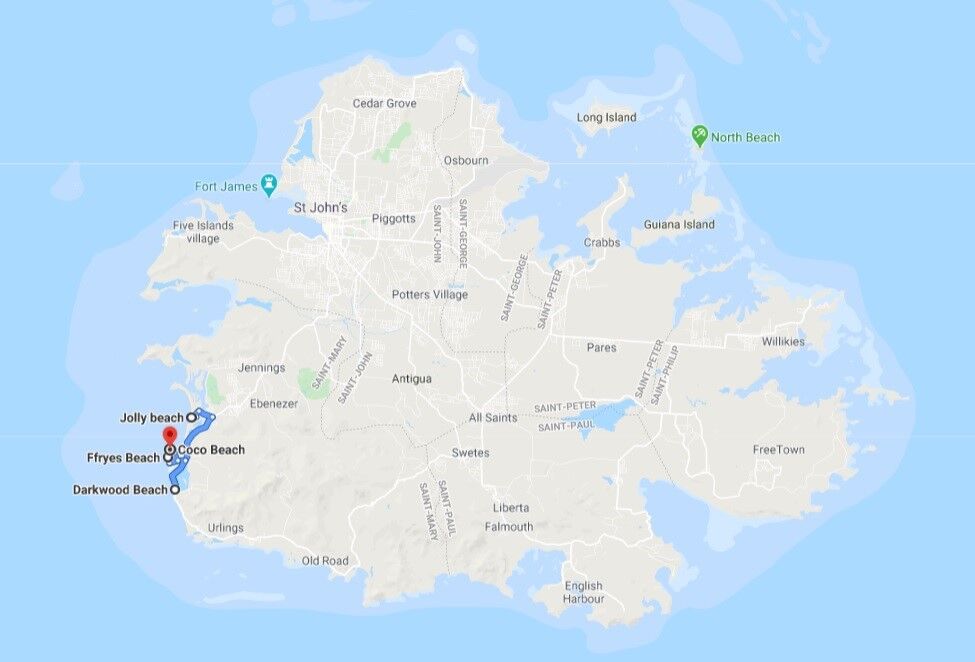 The southwest coast
The southwest coast is particularly hillier than the rest of Antigua; it is also generally less developed, allowing for more natural beauty to reconnect you with Mother Nature. The winding coast of the south and southwest area on the 'Antigua beaches map' is packed with some of the best beaches in Antigua:
Pigeon Point,
Nelson's Dockyard,
Johnson's Point,
Rendezvous Beach
Many more…
Making your way to this area in Antigua is well worth the travel time as the reward of the crystal blue water, the warm white sand beaches as well as the ample cocktail bars and restaurants will make the experience that much more special.
Jolly Beach
If you're looking for water sports, Jolly Beach is definitely your go-to beach destination. Situated 7 miles south of St John's, or 9 miles southwest of the airport, getting to Jolly Beach is no real strain.
The mile long stretch of glorious white sand beach is perfectly set against the jade water in this huge bay enclosed by overlying headlands. The energetic feeling here allows for kayaking, windsurfing, snorkelling and other adrenaline pumping activities to fill your day with family and friends.
This beach is usually rather busy, due to the few hotels that surround the area – but this also means that it is filled with amenities to meet your every need. Visiting one of the best beaches in Antigua, Jolly Beach, is a great idea when travelling with young children or teens. The restaurant scene will sort out any hunger calls and the water sports will keep them occupied and entertained.
Getting to the beach can be quite tricky if you're not living in the Jolly Beach area, get in touch with Relocate Antigua to sort out any transportation needs.
Darkwood Beach
Darkwood Beach is one of the most favourite beaches among locals in Antigua and Barbuda. Although each of the 366 beaches carries its own special feature, Darkwood Beach seems to have it all. The perfect white sand beaches and clean blue waters provide the ultimate setting for anyone looking to step back into Caribbean time.
Spending the day at Darkwood Beach is completely manageable, away from the resort crowds but packed with typical colourful shacks serving up island cocktails as well as bars and restaurants dishing out simple, but excellent, meals throughout the day. Renting deck chairs and umbrellas from some of the bars is also a possibility.
Darkwood Beach is synonymous with its greatest attraction for the young and the young at heart – Swash Water Park; where an inflatable obstacle course is set up for some family fun and friendly laughs.
Since Darkwood Beach is situated a short drive from the cruise ports, the number of people attending the beach is generally increased whenever a cruise ship is docked in the area. The large, spacious beach can still easily be enjoyed to its full charm though.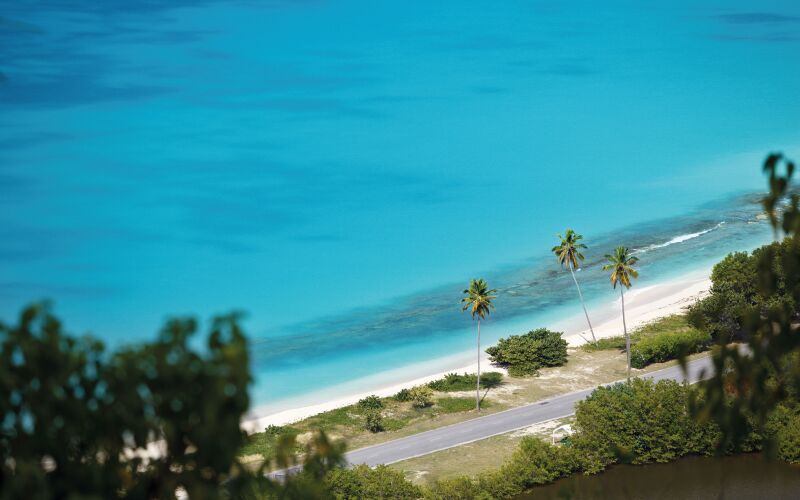 Coco Beach
The stunning Coco Beach is attached to the Cocobay Resort, but it is still considered a public beach, accessible via GPS as locating the beach without guidance can prove to be quite troublesome.
If you're hoping to sunbathe in the crowd, head towards the resort beaches area; but if you're looking for a more spacious suntan session, travel up the beach to a quieter area where your only concerns are the warmth of the sand and the splash of the Caribbean Sea.
Ffryes Bay
A short way from Coco Beach is Ffryes Bay; the best beach in Antigua for sunbathing and ultimate relaxation. This long stretch of beach offers white sand beaches and turquoise blue waters perfect for catching some sun and a good swim.
Ffryes Bay is not recommended for water sports, as the waves don't quite build up as much, making it perfect for beginner swimmers and young children. It's also a great way to experience the beauty in silence without water activities to drown out the sounds of nature.
A 30 minute drive south from St John's will lead you to Valley Road, where you will eventually drive right up to the beach's entrance. Here you can also enjoy local cuisine in some of the area's restaurants and resorts.
Whenever possible, visit Ffryes Bay on a clear day where you will be able to see the neighbouring island of Montserrat in the distance, between the two evergreen headlands that encase the beach.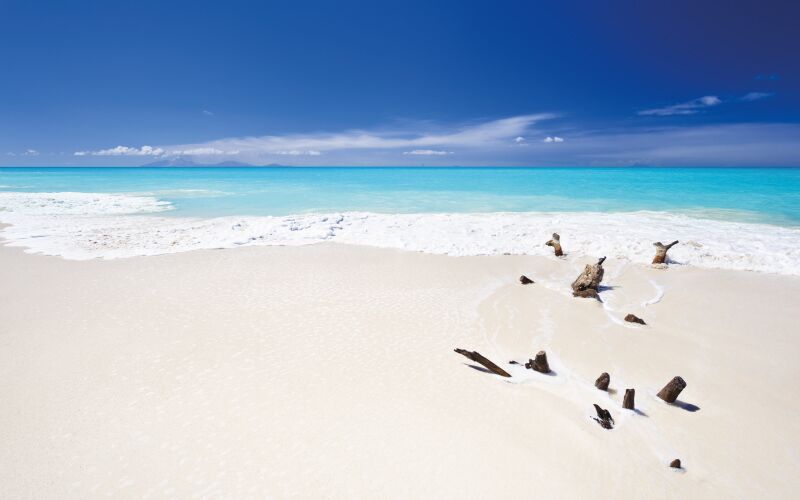 East Coast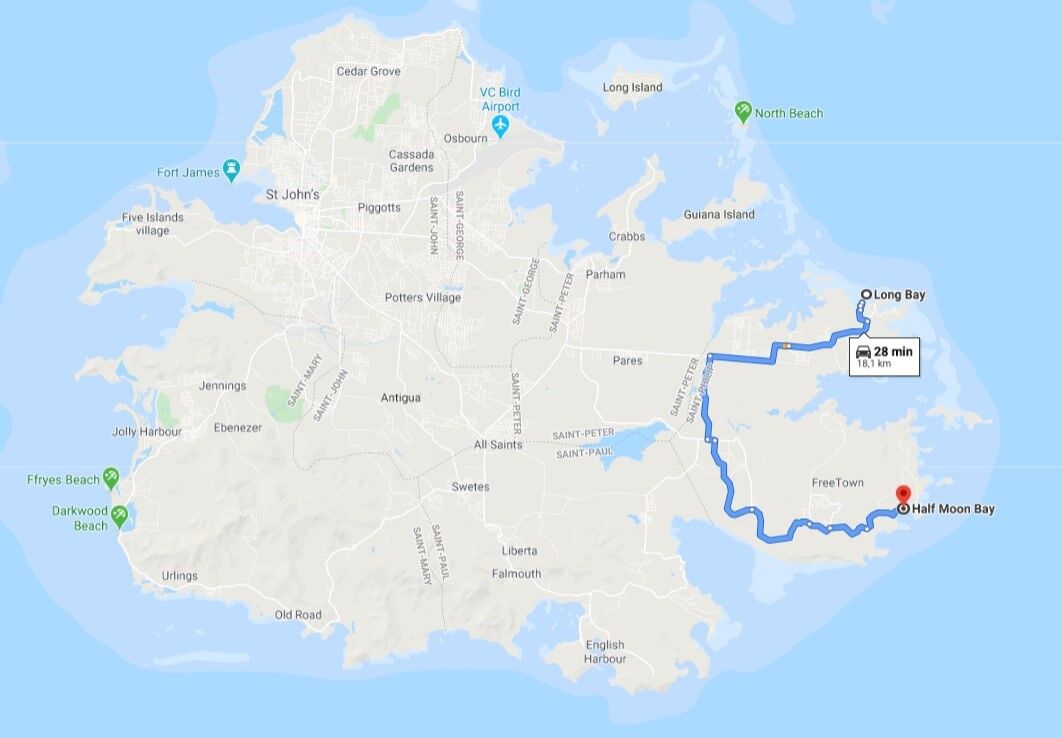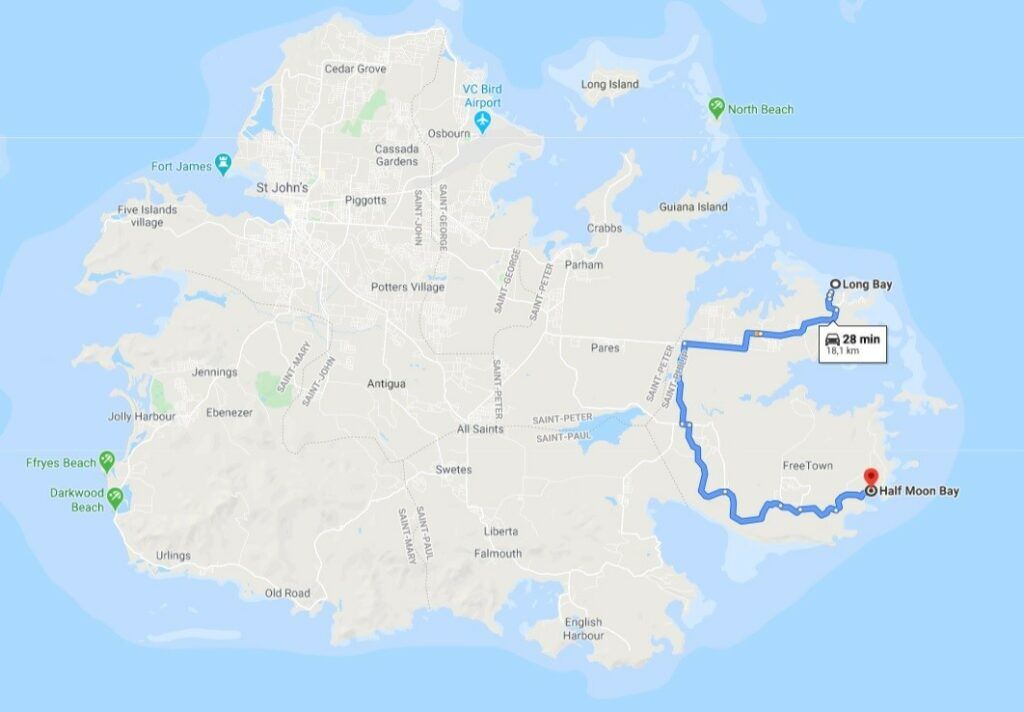 The east coast of Antigua easily offers the most picturesque beaches on the islands. This area is home to a National Park, a stunning reef and natural beauty. One of the greatest sites in this area is Devil's Bridge where Atlantic breakers carved the natural limestone in the area to create a picturesque bridge with natural blowholes that spout surf as the waves crash in. Visiting this area means natural beauty and energy is always experienced.
Long Bay
If you travel all the way down the east coast to the easternmost tip of the main island, you'll find one of the area's best beaches in Antigua – Long Bay. This beach serves sugar-white sand that's simply breath-taking and clear, shallow, blue waters that create one of the most stunning sites in Antigua and Barbuda.
Long Bay is Atlantic-facing, so the waters in the bay and its surrounding areas are expected to be rather unsettled. But; the natural reef in the distance acts as a barrier producing calm waves that can be enjoyed by any swimmer, no matter their experience.
Long Bay is also serviced by a great number of restaurants and kiosks to keep you going throughout the day.
Half Moon Bay
Rated the world's best beach and also classed as a National Park; Half Moon Bay is a must-see, no matter how long your stay in Antigua and Barbuda. This bucket-list adventure is a feast for the senses. With pink and white sand beaches that stretch on for a mile long into the Atlantic Ocean, a protective reef to calm the intensity of the waves and excellent snorkelling opportunities; Half Moon Bay is a stunner.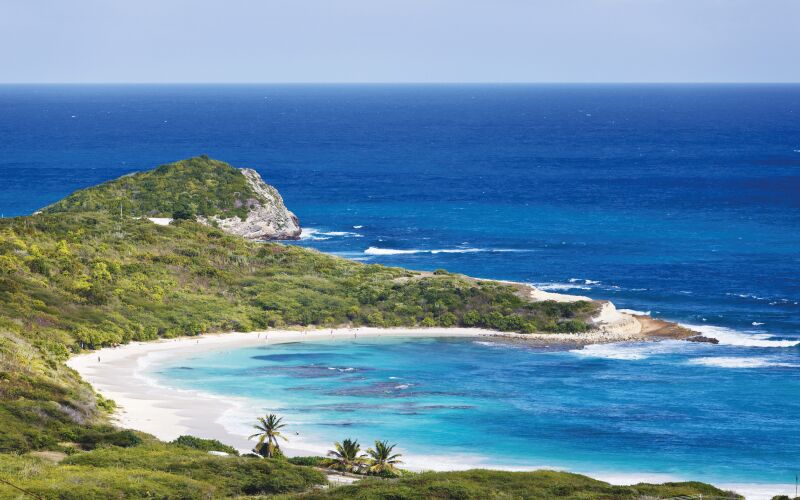 If you're looking for some action on the waves, the middle and southern end of the beach can offer small swells that serve for body surfing and wakeboarding perfection! So there's really something for everyone at Moon Bay.
The most appealing aspect of Moon Bay is its picturesque crescent shape, that lends a lot to the bay's name, it is also one of the prime reasons tourists stop for a visit and locals return to many times during the year.
If bird watching is something you'd be interested in, Moon Bay can offer excellent birding opportunities where broad-winged hawks, brown pelicans and osprey can be seen in their natural habitat. Moon Bay is the ideal location for families with varied interests and is only a 45 minute drive from St John's.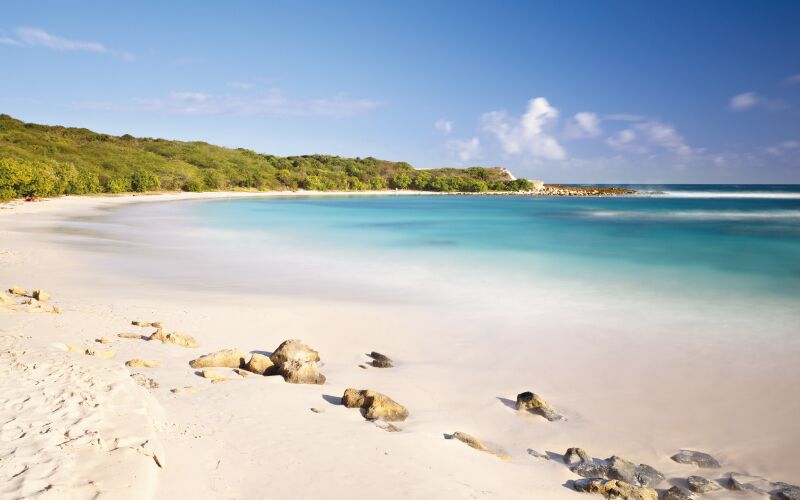 Main Off-Shore Islands
Antigua and Barbuda hosts a number of main off-shore islands – all of which pack their extreme beauty and accessibility. Some of them include: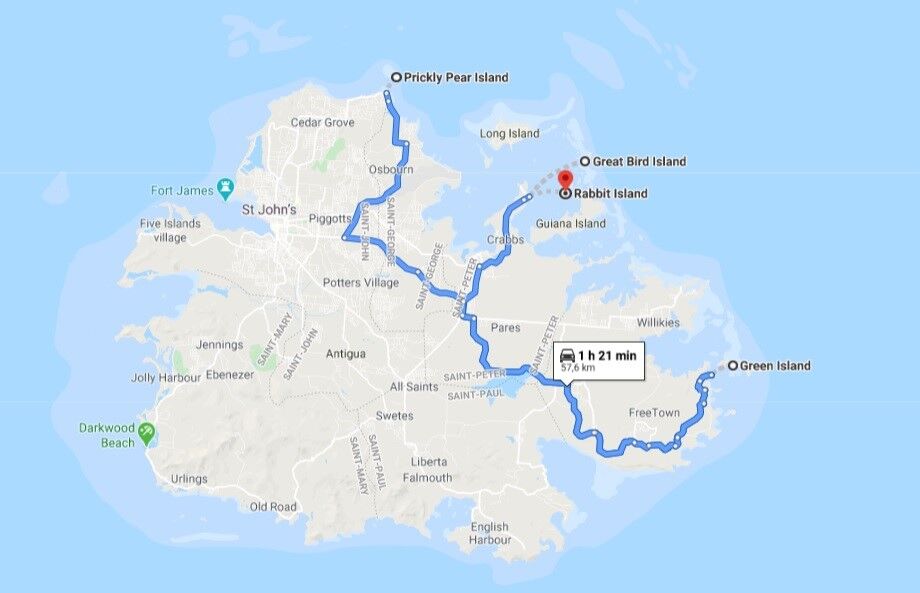 Redonda,
Great Bird Island,
Prickly Pear Island,
Rabbit Island
Hells Gate
Green Island (home to one of the quietest beaches in Antigua)
Green Island
Voted the number one snorkeling spot by visitors and locals alike, Green Island is a beach-island located just off Antigua's east coast and can be reached with a quick boat ride. This travel time will lead you to Antigua's quietest bay in its collection of 366 beaches.
Green Island has a humpbacked shape with peaks covered in natural greenery and lows delivering pristine beaches with clear blue waters. The greenery surrounding Green Island is colourful and engaging; the ultimate Caribbean image of natural beauty.
Green Island is the perfect place to relax, and due to its more earthy setup; such as the lack of public bathrooms; families with children may be less likely to visit. So sinking your toes into the soft sand and relaxing on the shore is a definite possibility.
You will need to make your way on and off the island via boat charter, so it is advised to book your transfers in advance. Contact Relocate Antigua for more information on chartering services.
Are all beaches in Antigua public?
Some beaches in Antigua are connected and serviced by local resorts that generally claim portions of the beaches in their vicinity for their patrons' use. However, all 366 beaches in Antigua and Barbuda as well as the off-shore islands are 100% open to the public.
Even though every beach in Antigua is public, getting yourself to some of them might take a little bit of work. If you're up for an adventure; take a walk down to your preferred beach and try your luck – the likelihood that another beach is just around the corner is pretty probable.
If you'd rather have your beach days planned out; the expert advisors at Relocate Antigua can take care of your transfers and even help in setting reservations for any of the activities you might want to try out on your Caribbean journey.
Antigua and Barbuda: all the beach you can handle
Antigua and Barbuda offers excellent beach possibilities, from water sports to tranquil sunbathing, cocktail binging at the local shacks or even snorkeling activities by a natural reef – the choices are endless!
The Caribbean islands of Antigua and Barbuda deliver the perfect public beach to meet your every expectation, with white sand beaches, clear blue waters and some of the best beaches near St John's Antigua… you definitely won't be disappointed!