Antigua's Top Resorts and Hotels
Antigua and Barbuda may be just two tiny dots on the world map, but this idyllic twin island nation has probably more top-class resorts and hotels than many other destinations. Big and boutique, and anything in between – if you are visiting Antigua and Barbuda, you are spoilt for choice. From all-inclusive family hotels and adult-only mega resorts to premier hotels offering five-star luxury to private island resorts, Antigua's upmarket accommodation is in a class of its own.
With some 60 hotels and more than 3,000 rooms on the island, there's a place to stay that suits every traveler's taste and budget – no matter whether you are looking for an active holiday with plenty of sports, fancy lazing around the island's beautiful white beaches or need a base from where to explore Antigua's fascinating history. Below is a list of Antigua's best resorts and hotels and you can also reach out to the experts of Relocate Antigua who can help you find the best hotel and resort that suits your needs.
Which is the best part of Antigua to stay?
Antigua is literally dotted with hotels, and most of them are located in close proximity to the island's famous white sand beaches.
Dickenson Bay, on the northwestern coast of Antigua, is one of the most beautiful beaches and home to a number of large resorts. The promenade is lined with bars and restaurants, and it's the perfect location for travelers on the active side, with plenty of water sports activities on offer.
The area from Jolly Harbour on the west side of the island all the way down to Cades Bay also hosts various hotels and resorts – and whether you are a couple looking for secluded romance or a large family, you'll surely find a gorgeous place to stay in this part of the island.
If you are a history buff, consider lodging near the English Harbour district, in the south of the island, which for almost 200 years served as a base for the British Navy. This era is encapsulated in the restored Nelson's Dockyards, a UNESCO World Heritage site and the island's premier historical attraction.
The eastern part of the island, Antigua's Atlantic side, is less developed and quieter from a tourist perspective than the west. One reason might be that the water on the Caribbean side is often calmer than on the Atlantic side. However, there are a few resorts located in very protected bays on this part of the island, which are ideal for anyone seeking a quiet, relaxing holiday.
Type of Resorts and Hotels
Antigua has a large portfolio of upmarket and luxury resorts that are ready to attend to any traveler's wishes. They offer a variety of entertainment on side, including amazing swimming pools, sports activities as well as bars and restaurants with live music and exclusive menus – and among them are some great family-friendly options.
Antigua's collection of adults-only resorts is particularly popular among honeymooners and couples seeking a romantic break, but they are also a firm favorite of friends vacating together without children. The minimum age allowed differs by the hotel but it's usually either 16 or 18. Antigua's adults-only resorts have different characteristics as some have a vibrant day and nightlife while others have a calm and relaxing atmosphere.
If you are a couple looking for a romantic getaway, book yourself in one of Antigua's couples-only resorts. A couples-only vacation is more romantic than just any all-inclusive resort as they offer the perfect ambiance for couples looking to enjoy each other in a stress-free romantic atmosphere. We recommend couples-only resorts in particular if you are looking for a honeymoon destination, want to celebrate your anniversary or planning for a destination wedding.
Should you be coming to Antigua on business or plan to spend most of your time exploring the island and won't need all the facilities and activities that a resort offers, Antigua offers many convenient and centrally located hotels.
Accommodation Costs
The Caribbean does have a reputation as a costly holiday destination, and most of Antigua's resorts are in the four- or five-star category. Nevertheless, there are some pretty affordable options available.
Costs for a standard room start at $100 per night but most resorts charge between $400 to $750 per night. For the most exclusive resorts, visitors should expect to pay around $1,000 per night.
Although Antigua is definitely positioned as an upscale holiday destination, budget-conscious travelers can find modest rooms in smaller hotels and guesthouses starting at around $60 per night.
Does Antigua have all-inclusive resorts? Definitely. Antigua is an all-inclusive resort paradise filled with accommodation options for every type of traveler – and they offer very good value for money. While many resorts offer travelers very convenient packages, the most exclusive resorts in Antigua are giving all-inclusive a whole new meaning – with all kinds of extras included in the rate, ranging from gourmet cuisine and world-class spas to tennis, golfing, sailing, snorkeling and even scuba diving.
To help you choose the best place to stay for your perfect Caribbean escape, here are our favorite resorts and luxury hotels in Antigua. We are starting with our family-friendly choices.
Great for Family Travel
Curtain Bluff
Set on the southern coast of Antigua, Curtain Bluff has long been one of Antigua's most popular and iconic all-inclusive resorts. From offering access to two perfect beaches to fun activities and exploration for the whole family, Curtain Bluff allows adults and children to enjoy their holiday in total harmony. Tennis, scuba diving, snorkelling, water aerobics and yoga are just some of the pleasures that can be shared. With 72 rooms and suites, Curtain Bluff is a great medium-sized resort that offers a selection of room types for you to choose from, ranging from rooms with direct access to the beach to others with private plunge pools. The resort also prides itself on having one of the Caribbean's best tennis centers, so if you are a tennis lover, this is the place for you to stay.
St. James's Club & Villas
Alternatively, you could head to St. James's Club & Villas. This is a welcoming five-star resort that has a lively vibe, and with 280 rooms, St James's Club & Villas is slightly larger than Curtain Bluff. The resort sits on Antigua's beautiful south-eastern coast and is located on a private 100-acre peninsula, which means guests do not have one but two different beaches to discover. St James' is a casual club-like resort that caters to families, singles and couples with plenty of fun activities for all – so you hardly have to take a step out of the resort.
Royalton Antigua Resort and Spa
The latest addition to Antigua's portfolio of all-inclusive resorts is the Royalton Antigua Resort and Spa, opening its doors in 2019. This five-star property is a great choice for a luxurious but family-friendly vacation experience. The modern und stylish resort is situated in Five Islands Village, a 15-minutes' drive from the island's capital St John and just 30 minutes from the island's airport, making it a convenient and centrally located luxury escape.
Carlisle Bay
With mesmerizing ocean views, Carlisle Bay is a medium-sized resort, where you can relax in 87 suites overlooking the bay. The resort is located close to English Harbour, Antigua's historic district. Base yourself here if you want to get out and about and plan on exploring the island. A combination of active adventure and relaxation makes the resort perfect for families, featuring four restaurants and bars, a spa, tennis courts, swimming pool and Kids Club, which will ensure that the resort's youngest guests also have a great time.
Starfish Jolly Beach Resort
Starfish Jolly Beach Resort is Antigua's largest all-inclusive resort, and there's always something going on, from beach Olympics to kayaking and sailing. The property features 464 rooms with private balconies or terraces surrounded by picturesque gardens, white-sand beaches and the turquoise waters of Jolly Harbour. Guests can choose from six different accommodation options that cater to every travel style from family vacation to romantic honeymoon. While it's not the most exclusive, this resort offers great value for money.
For a Multi-Generational Stay
Blue Waters
If your children don't get to see much of their grandparents – or you'd simply like to spend more time together – a multi-generational family holiday might be just what you need. The only resort on Soldier's Bay, on the island's northwest coast, Blue Waters is the perfect choice for families looking to get away from the hustle and bustle of everyday life. The resort consists of a mixture of sea-facing cottages and larger villas divided into suites. Several houses can be rented out completely, which makes it an ideal choice for larger groups or multi-generational stays.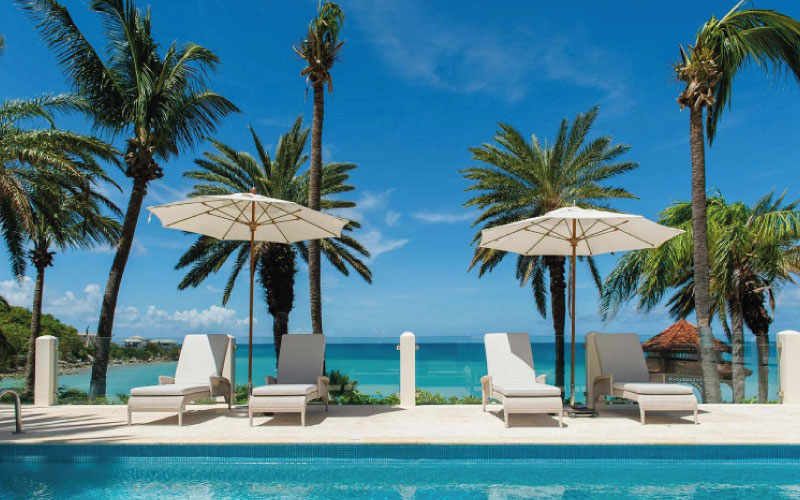 Only for Adults
Cocobay Resort
If you want to experience pure relaxation and enjoy a kid-free adults-only holiday, you should consider the Cocobay Resort on Antigua's sun-drenched west coast. This 4-star all-inclusive St. John's resort accepts only guests that are 18 years of age and older and sits on 10 acres and overlooks amazing Fryes Bay. You would sleep in romantic Caribbean cottages with views of the sea, gardens or the resort.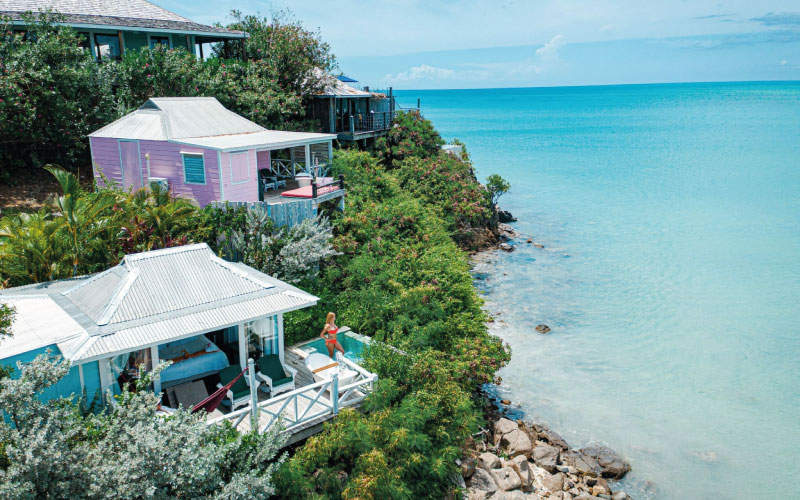 Pineapple Beach Club
Although it's a little less intimate than the Cocobay Resort, the Pineapple Beach Club is one of Antigua's most popular adults-only all-inclusive resort. The resort is strictly 16+, has 180 rooms and is located on the island's west coast. It has a private beach and is a great spot for snorkeling and windsurfing.
Ideal for Couples
Sandals Grande Antigua
If you are planning a romantic escape with your loved one, you could also opt for a resort with a couples-only policy. Antigua's biggest such resort is Sandals Grande Antigua. Situated on a beautiful stretch of beach in Dickenson Bay, this all-inclusive resort has repeatedly won the accolade of "World's Most Romantic Resort". It offers 373 rooms scattered through 27 acres of tropical grounds. With 11 restaurants and seven bars, guests certainly have lots of options. The resort is also particular popular among those seeking an active holiday as a whole range of sport actives are included in the all-inclusive rate, such as scuba diving, tennis and kayaking. If you stay more than three nights, Sandals even gives you a wedding for free.
Keyonna Beach Resort
Situated on beautiful Turner's Beach on the southwestern coast of the island, the Keyonna Beach Resort is another all-inclusive resort with a couples only policy but it's a lot quieter than Sandals. Accommodation is in the form of airy cottages leading directly out onto the beach, while views of nearby volcanic island Montserrat make it a location to dream about.
Galley Bay Resort & Spa
Galley Bay Resort & Spa in Five Island Village, close to the island's capital St. John's, features a private white sand beach, spacious rooms and a wide choice of restaurants. Its secluded setting on 56 acres of tropical land with a lagoon and bird sanctuary gives it an intimate atmosphere that make it particularly attractive to couples and honeymooners, although the Galley Bay Resort does not have a strict couples-only policy but it promotes itself as adults-only resort.
Best Intimate Luxury Stays
Jumby Bay Resort
Although all our favorite resorts and hotels offer exquisite experiences, there are a few resorts that take luxury to a whole new level. If you ever dreamed of holidaying on a private island, you should head to Jumby Bay Resort. This luxury all-inclusive beachfront resort is accessible only by boat and features 40 tastefully decorated rooms and vacation villas. There are no cars and no crowds, making Jumby Bay Resort a magical place that enables you to experience sheer luxury.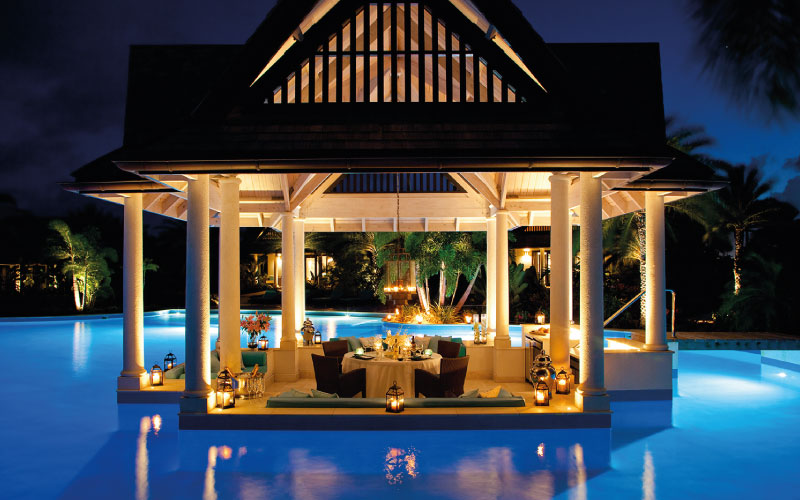 Hermitage Bay
Then there's Hermitage Bay, which sits in 140 acres of pristine vegetation on a remote bay just ten minutes from Antigua's Jolly Harbour. It's a tranquil oasis but it's central location can come in handy if you are planning any day-trips and excursions. The all-inclusive five-star boutique hotel offers only 30 individual suites nestled in beautiful tropical gardens on the beach and hillside of the stunning natural bay from which it has gotten its name.
Hotels and Boutique Resorts
If you want to explore the island rather than spending most of your time in a resort, you should take a look at Antigua's hotels and boutique resorts, which generally offer fewer facilities but still guarantee a comfortable stay.
Admiral's Inn
Admiral's Inn is great for exploring Antigua's history as its located in Nelson's Dockyard. The hotel also ranks among Antigua's more economical accommodation options.
Inn at English Harbour
The Inn at English Harbour is another hotel in this area, but it's more upmarket than the Admiral's Inn. It has a distinctively colonial and elegant feel and even offers exclusive beach access, a swimming pool, two tennis courts and more.
Sugar Ridge Resort
Then there is the Sugar Ridge Resort. Set on a hillside overlooking Jolly Harbour, this boutique resort has just 60 rooms but two outdoor pools and an Aveda spa – the only in the Caribbean. Due to its hillside location, Sugar Ridge has no direct beach access, but the hotel offers a shuttle that take it hotel guests to the beach and back to the resort.
Apartments and Villas
If you are travelling with a larger group, extended family or wish to enjoy your time in Antigua in total privacy, renting an apartment or a villa might also be a viable option. The real estate team of Relocate Antigua keeps abreast of Antigua's short and long-term rental market and is always happy to assist you in sourcing the right holiday home that suits your needs.
Travel Arrangements
Without a doubt, Antigua has some of the world's best all-inclusive adults-only and family resorts. If you are unsure which option is the right one for you or wish us to handle all your travel arrangements , contact us and we'll assist you. Whether you decide to stay in a larger resort, in one of the smaller boutique hotels or even in a private residence, you can rest assured that you will never be far away from a beautiful beach.
From your hotel room or cottage, it usually takes no more than a few minutes to reach the white sands and crystal-clear waters that make this sun-soaked island paradise so special.