Introduction
Is Antigua and Barbuda on your travel bucket list?
If you're considering spending your next holiday there, you might want all the info you can get your hands on with regards to the best time to visit Antigua and Barbuda.
Read on for details and insider tips on when is the best time to visit Antigua.
We're going to have a look at:
Popular events
All year round weather forecasts
What weather to expect during what season
Entertainment interests – snorkeling, diving, golfing
By the time you finish reading this you'll want to have an Antigua vacation booked for yesterday, and you'll be running to your closet to pack your suitcase.
How is the weather in Antigua?
Located in the Eastern Caribbean, Antigua and Barbuda enjoys full days of sunshine all year round and has optimal weather conditions between December to April.
Read on for details of weather throughout the year, when to watch out for the hurricane season and what the climate is like in these world-class Caribbean islands which are ranked in the Top 3 of the islands in this area of the world.
Let's take a look at the overall Antigua weather forecast in more detail so you can figure out what the best time to visit Antigua is for you, your preferences and your interests.
Antigua weather is mostly constant and pleasant all year round, as you can see from the temperature averages below.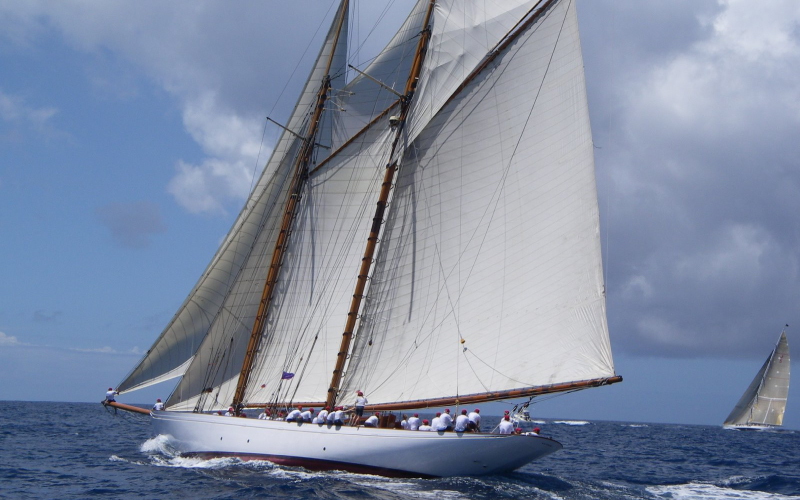 Average temperatures month by month in Antigua and Barbuda
Sea temperature
Source: Climates to Travel
The dry season in Antigua and Barbuda
Being Caribbean Islands on the east side, the dry season is expected to be between June and January. If you visit Antigua a little later, say around February and March, you need to know that these months tend to be the toughest as both the heat and the humidity increase significantly.
When is the rainy season in Antigua?
If you visit Antigua between July and December, it is considered that you are travelling there during the rainy season. However, due to the fact that the islands are pretty flat, the rainfall is never that abundant. What's more, being tropical storms, the downpours and thunderstorms can be intense, but on most days they only last for very short spurts of time of about 1.5 to 3 hours in the afternoon. This means that you can still enjoy your morning in the sunshine, then have a nice siesta while the rain hits your window and then go out again. Basically, despite the rain, you still can count on about 7 to 8 hours of sunshine hours a day.
Sunshine Hours
Average precipitation all year round
Source: Climates to Travel
Antigua and Barbuda hurricane season
When is the hurricane season in Antigua?
There are two times a year when you can expect the hurricane season in Antigua and Barbuda:
June to November (low probability)
August to October (higher probability)
In practice hurricane season means that you might encounter yourself on the islands when there is a high alert. In this case, the authorities of Antigua and Barbuda will inform you of their evacuation strategy which will keep you safe before it hits. However, we wouldn't give it too much thought in the past 50 years there have only been 6 direct hits to Antigua, the last one being Hurricane Jose in 1999.
High season
With the winter months in the upper hemisphere being quite harsh, December to April tend to be high season in the Caribbean islands, and Antigua and Barbuda are no exception. In fact, they have been ranked in the Top 3 Islands in the Caribbean.
Average temperatures for December to April in Antigua and Barbuda: 26°C/79°F
Low season
If you want to visit Antigua on a budget, mid-April to late November is your time. The weather might not be the best, but air-conditioning and trade winds make the heat more bearable. The best thing is that air fares and hotel costs go down by a good margin – we're talking 30-60% below the usual rate.
Restaurants, beaches and yes, even golf courses tend to be less crowded, making it a more exclusive experience for those who visit Antigua and Barbuda in the low season.
Insider tip – what to watch out for when booking in the low season:
Ask if the hotel provides mosquito nets – the more humid climate during this time means there are more insects about.
Ask if there will be any construction going on – hotels usually use this less busy time to do take care of any renovations needed.
Things to do in Antigua* & Barbuda
You'll find plenty here to keep you entertained.
Golf in Antigua*
The two best and most highly recommended golf courses in Antigua:
Jolly Harbour Golf Club
Cedar Valley Golf Course
Diving in Antigua*
It will come as no surprise that the Caribbean is a heaven on earth for divers. Whether you are an experienced diver or you're just thinking of taking your first diving course, here are the diving centers recommended by world-renowned PADI.
Top events
If you want to experience it all when you travel to Antigua, you need to have a good look at the islands' event calendar and pick a time of year when your visit to Antigua coincides with the events that interest you.
Antigua events 2020
Carnival
Month: July/August
Average temperatures: 28°C/82°F
Sunshine hours: 8
Carnival is a great time to visit the Caribbean islands. There is a reason why tourists flock to these islands, surrounded by crystal clear water, every year around July.
The vibrant energy of Carnival in Antigua and Barbuda has absolutely no comparison anywhere. The island is vivid with colors and music, and the local people are at their best during this yearly celebration of Carnival.
The Antigua Carnival packs in 10 full days of events – concerts, street festivals and pageants, all celebrating the abolition of slavery.
Interesting fact: the last two days of this not-to-miss event fall on the first Monday and Tuesday of August and are also national holidays on the islands.
Click here for the official and updated Antigua Carnival Calendar.
Sailing week
Month: mid-April
Average temperatures: 26°C/79°F
Sunshine hours: 8
Visit Antigua in April and you're sure to get a good dose of the best of sailing crews, both regional and international, all taking place in the idyllic setting of Nelson's Dockyard. More than 100 yachts join this world-renowned regatta every single year, and it always lives up to its reputation.
Event calendar
For a world class experience when you visit Antigua, check out the updated list of Antigua events here on the official site..
Visit Antigua Barbuda Official Calendar (updated)
Best time to visit Antigua – insider tip
If what you really want is to enjoy a pretty much exclusive experience of these world-class Caribbean Islands and their beaches, the trick is to book between May to June. By doing this you'll manage to fit in right between the high season and the Carnival in July.
Recommended in Antigua and Barbuda
Valley Church
Located between Cocos Beach and Jolly Harbour, Valley Church Beach is accessible to the public and includes wheelchair access as well as wheelchair-friendly washrooms, and restaurants where you can have a chilled lunch under the refreshing shade of the trees.
When you pick a place like this, regardless of whether you're going on vacation or relocating, you don't need to worry about the best time to visit Antigua because you'll enjoy the crystal clear waters, the pure definition of absolute beach bliss, throughout almost all the months of the year.
These waters also make Valley Church Beach the ideal choice for both swimming and snorkeling in Antigua* – most probably the best formula for a perfectly idyllic day at the beach.
If you're feeling more adventurous you might want to take a short hike up the hill around Valley Church Beach.
Insider hint on Valley Church Beach: head south
Finding that Valley Church is a popular excursion destination for cruiseshippers might put you off. But if you head south, you'll be sure to find some more secluded places where you can have a part of the beach to yourself and enjoy the perks of these secluded spots,away from most cruisers as they gather around the Nest, which is a popular restaurant on this beach.
Food and drink in Antigua and Barbuda
It will be no surprise that the seafood here is world-class. The freshness, the local seasoning and cooking make every meal, a finger-licking experience.
Finish off your meal with any of the variety of tropical fruits grown locally on the island.
Recommended food:
Antigua national dish – Fungi (pronounced Fun-gee)
Saltfish.
If you prefer to stick to your usual tastes, don't worry – you'll find every major type of cuisine here, from Italian to Mexican, American, and even Jamaican.
Recommended drinks:
Conclusion
Now that you have all the details on the best time to visit Antigua, there's just one more thing to do:
Pack your bathing suit, sunscreen, hats and insect repellent and you're good to go!
Still unsure if you want to visit Antigua?
Contact us here for a free consultation and personalized details.