Although with Bitcoin the first cryptocurrency was introduced to the market over 10 years ago, the interest in cryptocurrencies has not decreased since then, the contrary. More and more people are looking for ways to invest in cryptocurrencies and be part of the modern-day gold rush.
Yet it can be a complex endeavor to enter the market especially for new traders, who are no experts in cryptocurrencies. The high complexity of the processes involved in trading cryptocurrencies remains a barrier to entry for many potential investors and traders.
Here is where Crypto Asset Management platforms comes in. Crypto asset management platforms such as Blox allow users to consolidate diverse holdings in one platform. This means no more managing of multiple wallets and accounts, now you got it all in one place while you can also take advantage of improved portfolio management tools.
A crypto asset management platform not only makes life easier for newcomers to the crypto asset universe, but also for experienced traders. The rise of these platforms may contribute to open the cryptocurrency market to a broader participation also from less knowledgeable investors.
There are other crypto asset management tools that will facilitate the process of buying, trading, accounting and spending your cryptocurrencies. We'll go into more detail on those later.
If you want to learn more about crypto assets and digital assets in Antigua, contact us, our experts from Relocate Antigua are here to help you.
Back to basics, what you need to know before getting started
If you already have been around in the crypto asset universe for a while, you can skip this section, but if you are crypto novice, read on.
Before having a closer look at examples for crypto asset management software, let's take a step back and make sure that we are familiar with the meaning of some of the most important terms in this area.
You have found yourself wondering "where is the difference between crypto assets and cryptocurrencies?" In short, every cryptocurrency is a crypto asset, but not every crypto asset is a cryptocurrency. Because not every asset is used like digital cash. Some for example, provide access to a digital service or product. If you are keen to learn about crypto assets in detail, check out our article "What is crypto asset?"
What is a cryptocurrency wallet?
Just like you store your USD, Euro or GBP in a wallet there are also wallets for cryptocurrencies. Keep in mind, not every wallet accepts every cryptocurrency, but there are wallets that allow multiple cryptocurrencies.
The wallet stores the private and/or public keys and not the coins. The info stored in your wallet points to the location of your cryptocurrency on the blockchain and public and private keys either allow others to make payments to you or allow you to spend your cryptocurrency from the address derived from your key.
As you can imagine with a growing portfolio of cryptocurrencies, maintaining many separate wallets can easily become a nightmare. This is one reason why crypto asset management platforms become more and more popular as they allow to manage all your wallets on one platform.
But there are also great wallets that support a wide range of cryptocurrencies. One example is Trust Wallet. It supports many cryptocurrencies including most of the popular ones and allows you to create multiple wallet portfolios.
Crypto asset management tools and platforms
Finally, it's time to take a detailed look at the crypto asset management tools that will make buying, trading, accounting and spending of your cryptocurrencies a little easier and will help you navigate through the complex universe of crypto assets.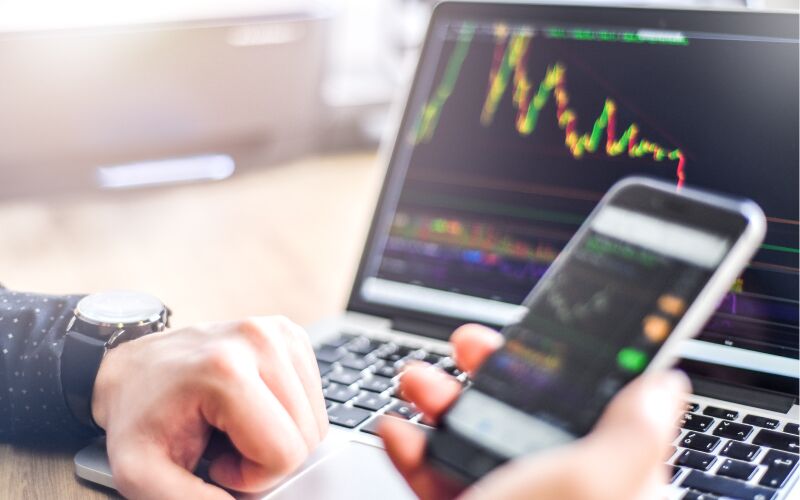 Coinbase
Coinbase is one of the leading digital currency exchanges in the US and offers its service in over than 100 countries. This is the place where you can buy and sell your cryptocurrencies and manage your portfolio. When the platform was starting out in 2012 you could only trade Bitcoin. Now the list has expanded and also includes Ethereum, Bitcoin Cash, Litecoin and XRP.
The platform is easy to use and therefore, also appeals to new investors. It provides you with blockchain wallets as well as fiat currency wallets. So you can store the crypto you have purchased as well as store e.g. USD or Euro in your account.
Good to know: Coinbase complies with KYC (Know Your Customer) and the AML (Anti-Money Laundering) law in the jurisdictions in which they operate.
Blox
Blox is a crypto asset management platform which combines accounting, tracking and management of cryptocurrencies. Furthermore, Block even helps you with filing your crypto taxes.
Blox allows you to sync your all your blockchain wallets as well as your exchange accounts into the platform.
The real-time dashboard shows you an overview of your balances, assets performances and also offers analytics of your portfolio, including how your portfolio value has changed over time. In addition to that you can have an eye on the price movement of coins.
Hardware wallet
You need a safe space to store your crypto? This is what hardware wallets are for. They are offline and thus protected from access by unsecure networks. As soon as your assets begin to gain a substantial value a hardware wallet might be the place you want to store them.
One of the easiest and most affordable hardware wallets to start with is Ledger Nano S.
Nano S looks more or less like a USB drive and can be connected to your computer, you can interact with it through the Ledger Live application. Nano S supports a wide range of crypto assets amongst them all the major cryptocurrencies. You can check out all the crypto assets supported by Nano S here. The hardware wallet is available for around 60 Euro.
Conclusion – Crypto asset management tools open up the market for a wider range of investors
What is crypto asset management? In shot crypto asset management tools and platforms are there to make the complex world of buying, trading, accounting and selling crypto assets a little easier. This is not only helpful for experienced traders, but also has the potential to make the complex world of crypto investing more accessible for less knowledgeable investors, who are new to the cryptocurrency universe.

There are countless crypto asset management tools out there, we introduced you to some of the leading ones in the industry that are great for starters as well as experts.
You want to invest in cryptocurrencies on Antigua and Barbuda, but you don't know where to get started? Relocate Antigua is here to help you with your investments and diversify your portfolio. If you are interested to make a new home in the Caribbean, we also provide relocation services. And of course you can find more information about related topics such as Blockchain Antigua or Bitcoin Antigua on our website.
Get in touch with our experts, we are here to help you move forward with your investment goals.