Living and working in Antigua sounds like a dream. How great would it be to have an Antigua work permit and enjoy the island life? Antigua – with its 365 beaches, relaxed vibe, white sands, and clear turquoise waters – is a true tropical paradise. It might be easier to make this dream a reality than you'd think. After all, what's not to love about leaving the office and enjoying the unhurried Caribbean lifestyle amidst the beautiful island landscapes every single day?
Whether you're only starting to make plans or have already applied for a job in Antigua and Barbuda, it's time to investigate your legal options. Feel free to contact our helpful legal experts at any time if you have any specific questions or need general advice.
So what are the work permit requirements for Antigua? The first step towards your new life and working in Antigua and Barbuda is to find out how to go about getting an Antigua and Barbuda work permit.
Do you need a work permit?
To work in Antigua, you will need a work permit if you are not a permanent resident or citizen of Antigua and Barbuda. A valid work permit entitles you to legally accept local employment.
Self-employed individuals planning to work from Antigua and Barbuda will also need to obtain a valid work permit to be permitted to work on the islands.
As soon as you have obtained a work permit, you are considered a temporary resident of Antigua and Barbuda. Once that's the case, contact our friendly real estate team to organize your temporary or permanent accommodation for you as soon as you arrive.
Requirements for an Antigua work permit
Getting a work process in Antigua can be a long process but Relocate Antigua will guide you through it all. Here are the main requirements: The Work permits are granted by the Employment Service of the Labour Department of Antigua and Barbuda.
To get a work permit you can only apply for jobs advertised locally.
Before giving you a job the employer will need to have interviewed local candidates.
The employer needs to present valid reasons why a foreign candidate was better suited for the role than the local one.
If you're accepted, your employer will apply for a work permit for you.
When planning to secure employment with an Antiguan company, get in touch with our professional recruitment team today so we can jumpstart your Caribbean job search and put you in contact with potential employers.
Application process
Your employer is required to submit several documents together with your work permit application. These are:
A copy of your passport (valid for more than six months from the date you entered the country)
A recent color photograph of you (45mm x 35mm)
A copy of your return flight ticket
Confirmation of your accommodation in Antigua
Evidence of your ability to fund yourself in Antigua and Barbuda, for example, a bank statement
A clean police clearance certificate (your police record in your country of residence)
Your birth certificate (including a certified English translation if it was issued in another language)
Evidence that your employer could not find any suitable local candidates
Documentation that proves that you are qualified for the role, for example, your degree certificate (including a certified English translation if it was issued in another language)
A letter by your employer to vouch for you while you are in Antigua
Evidence that the application fee has been paid.
Let us know if you need any assistance with official translations of your overseas documents for the application. Our language experts will be happy to help!
Once all the required documents have been compiled and the application fee paid by the company, your prospective employer will submit all documents to the Ministry of Labour. Then all that's left to do is sit and wait until the Department approves and issues your work permit. Usually, the process is fairly quick.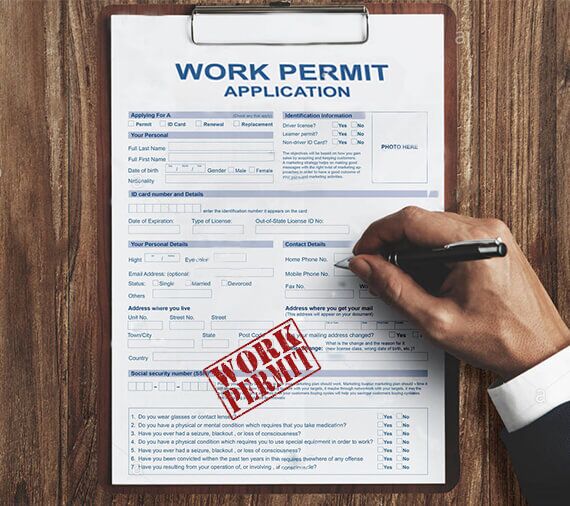 What is the cost of a work permit in Antigua?
A work entry visa (e-visa) for Antigua and Barbuda currently costs $175.00 (XCD) per applicant per year. This applies to visiting workers who continue to work for their overseas employer while in Antigua for business purposes. If you are planning to work for an Antiguan company, however, your prospective employer must pay a substantial, non-refundable fee when applying for your long-term work permit.
Different fees for extending your work permit also apply, depending on your circumstances, and can be viewed on the Immigration Department website. You may also wish to consult the Official Website of the Government of Antigua and Barbuda for the latest information and legal requirements.
Relocate Antigua has a specialized HR team that can help you find local employment in Antigua and give you extensive information on the fees and processes involved in your situation.
Consequences of not having the required work permit can be severe:
A fine of fifteen hundred dollars or imprisonment for six months. As always, whenever you're in doubt of any legal requirements, consult your case with our experts at Relocate Antigua.
The government of Antigua and Barbuda encourages employers to recruit people from the islands. While it can be hard to get a local job, the conditions of establishing offshore companies are quite favourable.
So, if the Antigua work permit application sounds too cumbersome, consider trying your strengths as an entrepreneur!
If you plan to relocate to Antigua and need more advice on the process, reach out to our experts at Relocate Antigua who will be happy to guide you.
Further information
As employers need to demonstrate that the role could not be filled with a local candidate, most jobs open to foreign applicants are highly qualified or skilled positions. If you are interested in a low-skilled role that does not require any special qualifications, your application is not likely to be successful.
If you're a skilled worker or qualified practitioner in any of the following areas, we can connect you with businesses that are seeking employees:
Chefs/Cooking
Nursing and Hospital Staff
Taxi Drivers
Food Services
Receptionists
Cleaners
Legal assistants
Lawyers
Personal Assistants
Call Centre Staff
Airport Staff
Hotel and Hospitality Staff
Marketing Professionals
Immigration Officers
Information Technology Professionals
Security Staff
Financial Advisors
Medical Doctors
Flight Attendants
Teaching Staff
Construction Workers
Customer Service Staff
What's more, the application fee employers must pay to apply for your work permit is high and non-refundable, so they will only want to make this significant investment and start the process if they need to to fill the role.
Work permits are usually valid for one year. After that time, your permit can be extended on an annual basis if you continue to work for the same employer. If you change companies, you will have to go through the whole application process again with your new employer.
Once your work permit has expired, you must leave Antigua and Barbuda within six months, otherwise, you will be fined for overstaying your Antigua work visa.
For a review of your situation or more information about obtaining a work permit for Antigua and Barbuda in general, contact our experienced immigration experts at Relocate Antigua. We will be happy to consult you in all visa matters!
Final recommendations
Now that you know all the steps involved in obtaining a work permit for Antigua & Barbuda, the ball is in your court. If you are serious about making a lifestyle change, contact the trusted experts of Relocate Antigua on +1 268 736 3905 now or send us an email at mail@relocateantigua.com, and we'll get the ball rolling. You'll be sitting in a lounger on the white sandy beach, enjoying the glorious Caribbean sunset and sipping a refreshing cocktail in no time!
Start planning your move and take a look at our professional relocation services. Let us help you make your dream of living and working in Antigua and Barbuda come true!