On the west of Antigua, where the sunset is almost magical, Jolly Harbour offers a tranquil and convenient experience for tourists and expats. Often referred to as a residential community, this area is complete with all the amenities for tourists and families who want to relocate to the beautiful twin-island state of Antigua and Barbuda. From a professionally managed boatyard and marina to the spectacular mile-long white-sanded beauty that is Jolly Beach, the gated community of Jolly Harbour is one of the best locations to stay in Antigua.
All about Jolly Harbour Antigua
Perched upon one of the most beautiful and lively beaches on the west coast is a nice community often referred to as a marina village. The area consists of a fully equipped docking marina which is said to be the largest man-made marina in the entire Caribbean and is home to many yachters and boaters, a pharmacy, sports center, several restaurants and bars, and a commercial center, and most importantly a wide selection of real estate properties for rent and sale. About 20 minutes from St. John's, this area not only offers amenities and marine opportunities but is also one of the most peaceful and safe areas on the island. All things considered, this tight-knit community is a great option if you are thinking about buying a house in Antigua.
Jolly Harbour History
Jolly Harbour was designed by Swiss businessman Dr. Alfred Erhart in the early '90s. Initially, it was considered a resort that consisted of over 650 privately owned waterfront properties. The marina and boatyard were established in 1992, offering storage, dockage, and all needs for visiting yachters and other private sea vessels. Throughout the years, the commercial center has grown to feature a mixture of restaurants, gift shops, real estate offices, and more.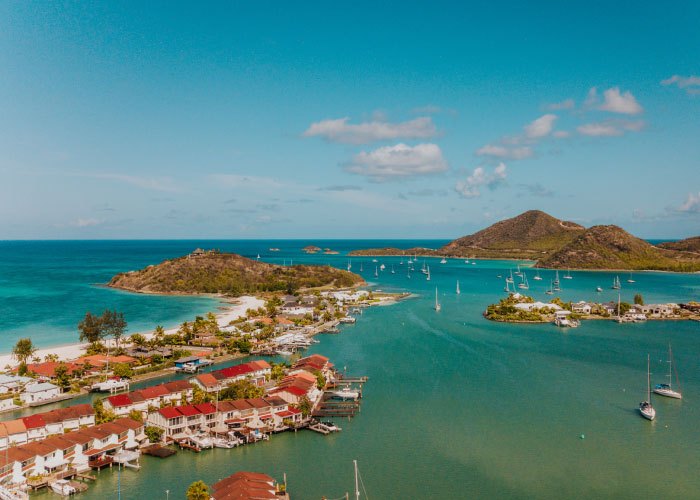 Amenities and Services
If you are visiting Antigua by yacht through the Jolly Harbour Marina, you may be wondering are there all the necessary services here? Well, in addition to duty-free diesel, the marina offers a wide range of services for boat owners. Professional and skilled marine tradesmen offer services such as:
Fabrication
Mechanics and marine electrics
Carpentry and painting
Gel coating and fiberglassing
Detailing
Yacht and boat management
Other services available within the Jolly Harbour community include:
Pharmacy
Real estate offices
Beauty Salon
Car and Bicycle rental
Boat rental
Golf cart rental
Furthermore, if you are interested in chartering a yacht for the day several companies within the marina offer these services. These include:
Dream Yacht Charter
Paradise boat sales
Unplugged yacht charters
Horizon Yacht Charters Antigua
Catch the Cat Antigua
You can find out about services in Antigua on the Relocate Antigua Travel Network.
Things to Do
Jolly Harbour Antigua can be described as an escape from the regular Antiguan life- passing through, you are sure to spot scores of tourists strolling the docks or embarking on a boat cruise at the docks. When it comes to dining, there are very diverse options, from Greek and Italian restaurants to lively bars. Looking at the packed harbour and the waterside restaurants, it may not seem like many options for fun, but there are many other activities to choose from in Jolly Harbour.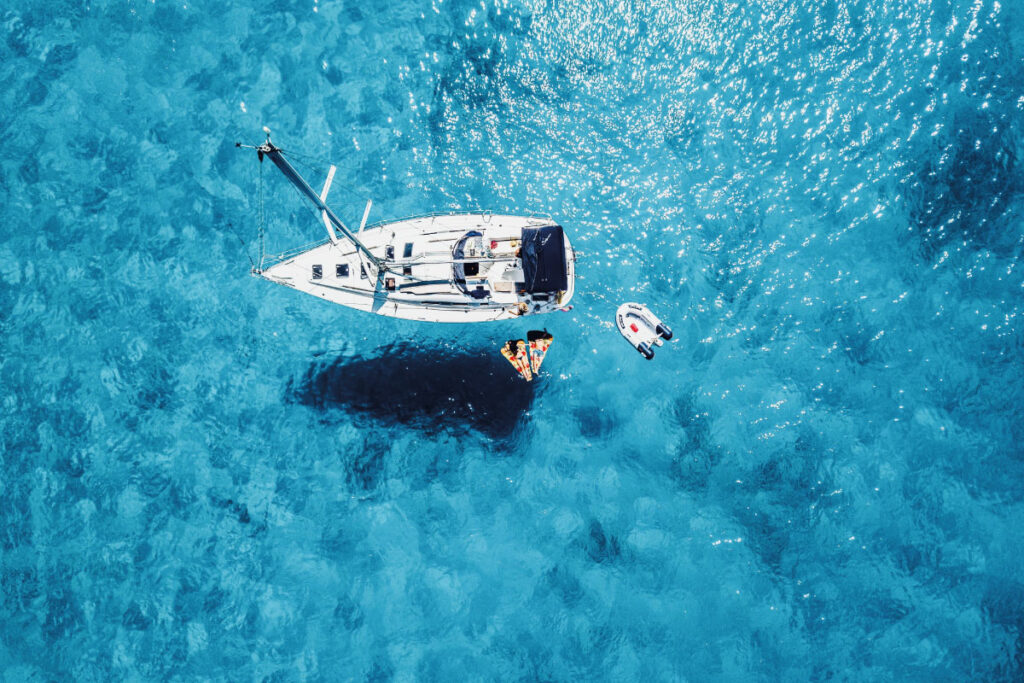 Jolly Beach Antigua
To say Jolly Beach, Antigua is one of the best beaches on the island would be an understatement, and to simply describe it as beautiful won't be enough. The mile-long stretch of pristine powdery white sands attracts scores of tourists and locals each day. Every so often, a jet ski can be seen whizzing by as this is one of the most popular motorized watersports to enjoy here. Jolly Beach has the best of both worlds- the lively and more popular South Beach and the calm more secluded North Beach with its crystal-clear waters and tranquil atmosphere.
Jet ski vendors are on the spot offering the opportunity to enjoy exhilarating rides across the turquoise waters.
Other watersport activities that can be enjoyed on this incredible beach include:
Stand-up paddleboarding
Hobby Cat riding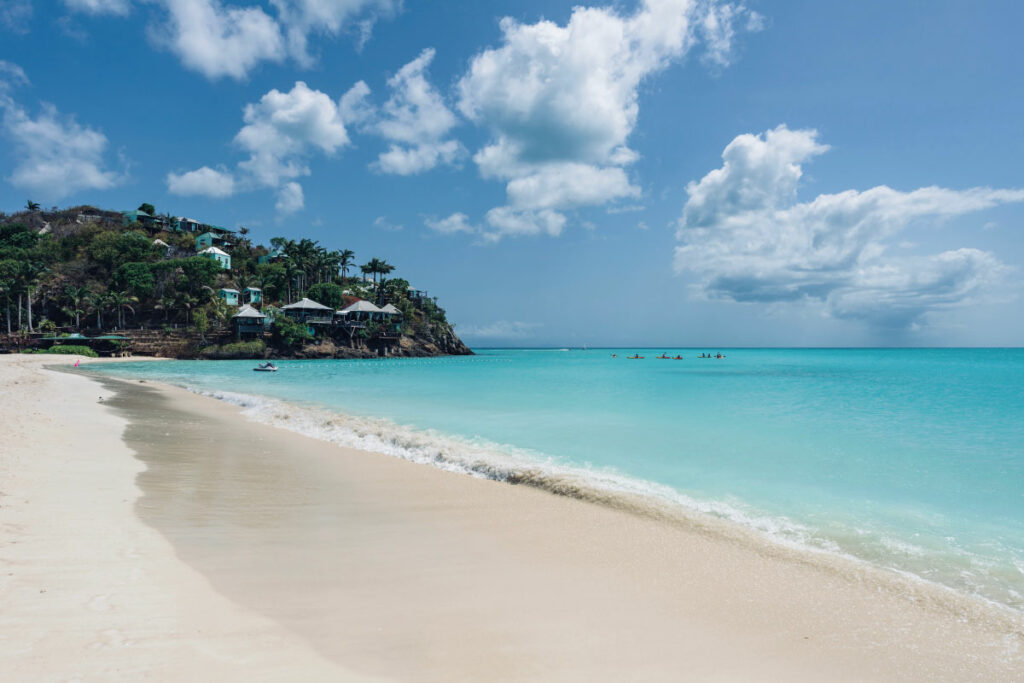 Find out more about this and other beaches in our magazine.
Sports
When you've had enough watersports, you can enjoy a range of exciting land sports including golf, tennis, basketball, and more. Jolly Harbour features a 5,587-yard golf course designed by the famous golf course architect Karl Litton. The course offers daily weekly, monthly, and yearly rates.
A 2-minute walk from the beach leads to a fully equipped tennis and basketball court, where you can enjoy the sports with friends or other players. There is also a large pool that is accessible to all Jolly Harbour residents and visitors.
Dining Out
Breakfast dates, moonlit dinners, Karaoke nights, brunch near the water- dining out at jolly harbour is quite the treat. With very diverse restaurant options from Greek food to traditional Italian pizza to local and regional dishes, here are some of the best dining options in Jolly Harbour Antigua:
Al Porto
Curry House Antigua
Petal's Café
Crows Nest
Miracles Restaurant
Jolly Harbour Real Estate
Jolly Harbour is often described as the real estate hub of the twin-island state, with various types of waterfront homes and some of the best condos for sale in Antigua that give a true feel of the real Caribbean dream. If you are thinking of buying property in Antigua, here would be an excellent choice especially if you are a yachting or sailing fanatic. There are many luxury houses for sale in Antigua and gorgeous villas to choose from and the best part- Jolly Harbour features a selection of Citizenship by Investment approved properties.
If you want to know more about Jolly Harbour Villas Antigua, get in touch with us. You can also read our guide to buying real estate in Antigua in our magazine.
For more information on Antigua and Barbuda Citizenship by Investment program and how to buy real estate in Jolly Harbour in exchange for a passport, give us a call today.
Takeaway
Jolly Harbour Antigua is a great location for a day's visit or your entire vacation. A fully equipped marina, sports complexes, and other amenities that will save you a trip to town all make this area great for families, digital nomads, and sailing fanatics.
Get in touch with us for more information about Jolly Harbour real estate.
Was this content helpful?
Let us know if you liked the post. That's the only way we can improve.