If you think having your very own security detail is the stuff of Hollywood blockbusters, then think again.
A personal security guard or VIP security team offer reassurance, comfort and peace of mind – particularly when your home or business premises are high-worth and need that extra layer of surveillance.
As trusted partners in providing our clients with on-the-ground connections and advice for securing their homes, loved ones and assets, Relocate Antigua brings you the down-low on a service that's gaining traction.
What is personal security?
Personal security details offer professional security and guard services. These companies and individuals often have backgrounds in law enforcement and personal protection, and will undergo stringent background checks before being hired.
How personal security teams operate
Personal security companies ringfence your assets and keep you protected during travel, at home or in the workplace by:
Drawing on cutting-edge surveillance technology and techniques
Conducting risk assessments, interviews and recces
Carrying out threat investigations and research
Operating undercover and with complete discretion and confidentiality
Whether you're looking for 24/7 surveillance of your home, personal travel security and a driver, or a personal security officer to shadow you over the course of your day, personal protection security companies keep you covered.
How much do personal security guards cost?
There is no one-size-fits-all answer to how much you can expect to pay for your security. The cost of setting up and maintaining your very own personal security solution will vary wildly depending on:
Your location – costs will depend not only on the country you're in, but also where you are specifically. Surveillance and security support costs more in a city than it does in a rural setting, simply because of the intricacies and higher risk factor involved.
The company you choose to work with – global companies may be able to offer you lower rates as a result of cost spreading, but local firms might also be more flexible in their pricing.
The level of security required – an armored fleet will inevitably come at a higher price than a single security guard.
The security staff's past experience and qualifications – the higher and more specialized the level of training, the more expensive the bill.
The hardware and technology involved – military-grade software, night-vision goggles and cams, protective equipment and tracking and monitoring devices all come at a cost.
Whether your security guards are armed or unarmed – and any subsequent licenses needed.
Regularity/frequency – one-off jobs may look cheaper on paper, but are generally billed at a higher hourly rate than a continuous security package.
What does a personal security detail offer?
Security officers, bodyguards and personal protection companies are trained and licensed to offer a broad range of services.
Manned protection of premises
Preventing:
Fires
Squatting
Break-ins
Disruption and unrest…
…in homes, offices, business premises, venues and public spaces.
Manned protection of property
Safeguarding against:
Fire
Loss
Theft
Damage and destruction…
…of valuable items and personal property.
Manned protection of people
Protecting individuals from:
Attacks
Harassment
Assault and injuries…
…that third parties may try to inflict.
Personal security services can be requested on a one-off or ad hoc basis, for example if you know you'll be travelling to an area where high crime rates are logged. More often though, individuals choose to work with trained security guards on an everyday basis to ensure their loved ones and property remain safe.
Do you need personal security?
While anyone looking for reassurance can hire their own bodyguard, several categories of people are actively advised to seek out their own trusted security team.
High-net-worth individuals, business owners, CEOs and executives are all targets for ill-intentioned operators.
Business travelers and people who are often on the move should consider personal security solutions – especially when travelling to well-known hotspots. Even in safer areas, it's not unheard of for unaccompanied foreign travelers to be targeted by local criminals.
For individuals who carry large amounts of money and/or valuables on them as part of their day-to-day jobs, security is a non-negotiable.
Celebrities and people in the public eye, whether community leaders, lottery winners or front-page news protagonists make ideal candidates for unwanted attention. Personal security is crucial for this category of person.
Victims of domestic abuse and people who have received social media threats may also feel comforted and reassured with a security team working behind the scenes to keep them safe.
Anyone with high-value property and real estate to protect would be well served by having professional, qualified staff monitoring their premises.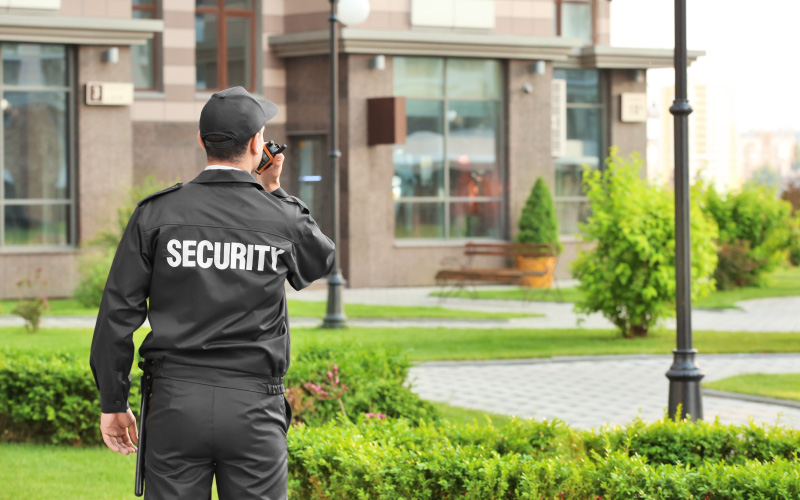 Hiring personal security
Individuals looking for personal security services have the choice of working with a global company or opting to collaborate with a local firm.
Companies with worldwide presence
The benefit of choosing a multinational organization to handle your security needs is the reassurance of global cover wherever you end up in the world.
These companies run a tight ship, and have the advantage of drawing on contacts and experience garnered around the world, which they can then adapt and feed back into your personal circumstances. There's nothing international operators haven't seen before…
Our top five private security companies
Personal security in Antigua
Home to high-net-worth individuals, foreign investors, international companies and high-income holidaymakers alike, Antigua offers a dense network of expertly trained local specialists in personal security.
At Relocate Antigua, we understand how overwhelming it can feel to arrive in a new country with no idea of where to start. We take the complication out of sourcing the very best security staff the island has to offer.
We only ever work with trusted, certified security companies, putting you in touch with industry professionals for all your security detail and personal security needs.
Get in touch with a member of our team for a free and fully confidential preliminary consultation to outline your requirements.
Final thoughts: keeping your assets safe with watertight security
There are a number of reasons why personal security might be a good idea for you, whether to protect your person, your loved ones, your property or your assets.
Although anyone can benefit from their own personal security detail, high-profile and high-net-worth individuals are at particular risk of untoward activity and would do well to investigate security solutions.
Costs are entirely dependent on the specifics of your personal circumstances, but shouldn't be a barrier to you hiring a security team – after all, you can't put a price on your well-being and safety.
Relocate Antigua specializes in providing turnkey solutions ranging from VIP airport handling to car and chauffeur services. As part of our full-package approach, we also work with the island's top security professionals to get you hooked up with watertight security you can trust.
Contact one of our team members today for insight into how our qualified partners may be of service.