Concierge companies offer many types of service all with a single end-goal in mind: making life as easy as possible and freeing you up to focus on the big stuff.
Traditionally associated with luxury apartment blocks, hotels and the hospitality sector, concierges are emerging as a must-have lifestyle accessory for people on the go, and are increasingly offering turnkey solutions for almost any kind of need imaginable.
Read on for a detailed breakdown of what you can expect from any concierge worth their salt!
What is a concierge service, exactly?
Personal concierge services are gaining traction in the home services industry, and with good reason. Concierges work to iron out all the little niggles in life so that you don't have to, offering everything from ironing and laundry collection to childcare, valeting, travel planning and restaurant reservations.
Concierges may work as sole traders and can also use titles such as 'lifestyle manager' or 'personal assistant' , but more often than not you'll be dealing with professional companies specializing in your particular area of need.
Our list of concierge services gives you the low-down on the type of concierge available to you. The profession is evolving and growing as society and consumer habits change, so you can expect to see the services on offer from professional concierge companies adapt over time, too.
Today's concierges are a fry cry away from how the profession originally started out…
The history of concierge services
The word 'concierge' is said to come from the French phrase 'comte des cierges', the literal translation of which is 'count/guardian of the candles'. It's thought the expression dates back to the Middle Ages, and referred to the house staff tasked with extinguishing castles' candles when night fell.
Medieval concierges served as legal officers to the king, with the position gradually evolving from the 18th century on to encompass management of police and prison systems.
Over time, concierges found their place in Paris' luxury apartments and homes. They were often from Switzerland, a country long associated with the highest of standards in hospitality and personal services. Concierges acted as doorkeepers, receptionists, porters and butlers – a role they continue to fulfil today.
Originally associated with wealthy families and the aristocracy, the concierge services business is becoming increasingly affordable and accessible, and is no longer the sole preserve of the upper crust.
The benefits of using a concierge service
Using a concierge service gives you a little taste of luxury and a glimmer of the holiday experience on a daily basis. From freshly ironed sheets delivered straight to your door, to special events and on-demand services arranged in a flash, with minimal input or effort required on your part – concierges make the magic happen.
Modern concierge services have a lot to offer.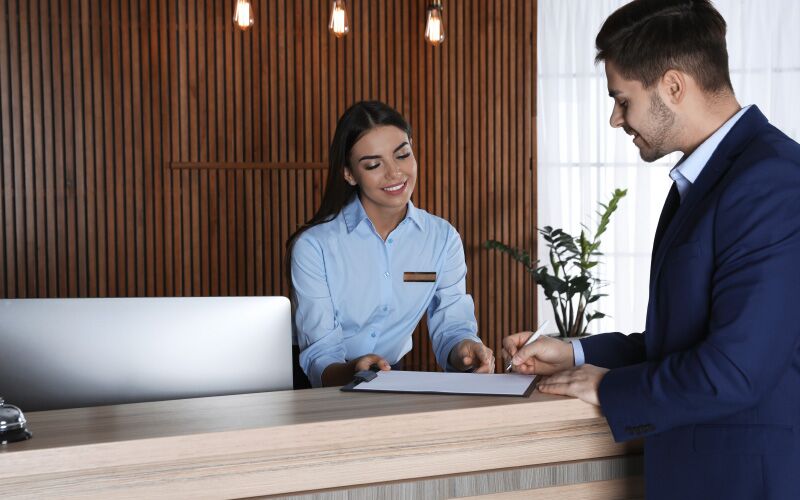 Free up your valuable time
Long working days, classes, clubs, volunteering, quality time with your partner and the TLC your children need can all stack up. When you're trying to juggle the demands of a busy life, dealing with laundry, bookings, post, cleaning and phone calls can all take their toll.
Concierge services are a fantastic way of clearing space in your diary for the things that truly matter.
Draw on specialist expertise
Concierges are trained professionals with unbeatable local knowledge. Want to book theater tickets? Your concierge will know exactly which seats are best at any given venue. Struggling with a stubborn stain? Concierge companies have detailed records of the go-to people to contact for the most specific of tasks. In the mood for a particular dish? Concierges know what restaurants serve it – and how to snag you the best table at the last minute.
Get peace of mind
Your concierge will keep tabs on life's demands so you don't have to. Forget about checklists, diaries, family planners and schedules – and stop worrying about that all-important birthday card you really should send.
Concierges are meticulous planners and organizers trained to keep things ticking along in the background, and relieving you of any mental workload. Not only do they know whose birthday is coming up and when – they'll select, write and post the card on time, too.
Indulge in luxury
If there's a special deal, promotion, VIP access or upgrade available, you can bet your concierge will know how to find it, and make sure you get in a look-in. Concierges are an excellent way of treating yourself to the ease, convenience and comfort of premium living at a more affordable price than you might expect. All things considered, the cost of using a concierge service is lower than if you employed the services of an ad hoc professional.
Build trusted relationships
Concierges inevitably become much loved and appreciated members of the family. Because they work closely with you on a day to day basis, your concierge will come to know you, your preferences and your approaches like the back of their hand. And there's nothing quite as comforting as knowing you have a trusted partner you can rely on.
Types of concierge services
As the concierge industry has grown, hyper-specialization has emerged as the name of the game. Many companies will offer cross-over services or several different types of personal assistance from the many sub-types available:
Senior concierge services
Everyday assistance for elderly clients, including help with housework, gardening, shopping, pet care, cooking, cleaning and repairs, and travel to appointments.
Corporate concierge services
Concierge services for companies generally offer ultra-tailored packages to suit each business's specific needs.
These might include correspondence, meeting and conference planning, special events planning, logistics, travel arrangements and transfers, relocation services, personal assistance, and secretarial and administrative duties.
Concierge medical services and concierge nursing services
When illness or injury strike, medical concierge services can offer a welcome breather. These include prescription pick-up, travel to and from appointments, making and managing appointments, arranging accommodation, private nursing and childcare services.
Luxury concierge service
Luxury is often the first word to spring to mind when people think of concierge services.
Fresh flowers and handcrafted chocolates delivered on a regular basis, personal shopping, private event and party planning, high-end accommodation and travel arrangements, in-house chef solutions and premium real estate viewings – when it comes to luxury, no job is ever too big or too small.
Home concierge service
Concierges in the home cover all bases, including food shops, cleaning, maintenance, repairs, laundry and ironing, dog-walking, pet care and vet appointments, making and arranging medical appointments, handling household admin, correspondence and shopping lists, school and work pick-ups and drop-offs, cooking, babysitting and child-minding, gardening and travel plans.
From getting a new set of keys cut to changing the cat litter, home concierge services offer turn-key solutions to keep your home clean, calm and under control.
Travel concierge services
Specialist travel concierges handle the minutiae of your travel plans so you can sit back and enjoy the ride.
This might include finding and booking plane and train tickets, transfers to and from the airport or station both at home and abroad, dealing with immigration and customs paperwork, arranging travel insurance, booking hotels and restaurants, and serving as your go-to emergency contact when abroad.
Car concierge service
Car concierge services take care of all the more mundane aspects involved in car ownership. This could include help with choosing and buying your perfect car, delivering your new car to your doorstep, arranging insurance, handling repairs, check-ups and paperwork, on-demand refueling, scheduled wash-and-vacuum services, roadside assistance and emergency support, and loading and unloading for help getting your groceries from your boot to the fridge.
Real estate concierge service
Concierge real estate companies take on all the stresses of moving home to give you the ultimate in peace of mind.
Getting your plumbing in working order, mowing the lawn, redesigning your garden, painting the kitchen walls, setting up utility accounts and paying the bills, shopping around for the best home insurance and redecorating your living spaces – property concierge services have a little black book of skilled professionals and tradesmen to dip into on your behalf.
Pricing for a concierge service
Each concierge company will operate a slightly different pricing structure, so it's a good idea to shop around and see what suits you best.
Membership fees often apply as a buy-in before you start curating your own tailored package.
One-off fees: A set, flat rate for one-off chores or duties. Maybe you have an elderly relative visiting and would like assistance taking them to their medical appointments – if you know you won't be making further use of the service, then stick to a one-off fee. Concierge 360, for example, offers an 'a la carte' service with prices set at $65 per hour, for a minimum of one hour.
Annual fee: A single payment that gives you access to the company's full range of services for an entire year. This pricing plan is well worth the money if you're looking for maximum, continuous assistance. Luxury Worldwide Service gives members the opportunity to sign up for a 24/7 'lifestyle manager' – for €4,500 per year.
Monthly fees: Pay-as-you-go formats, sometimes with the option of pausing your membership if you know you'll be away. At Vitality Concierge Services, 20 hours of concierge services per month will set you back $400.
Your concierge in Antigua
Relocate Antigua takes a 360-degree approach to helping you get the most out of your island experience.
As a key name on the local luxury scene, we've spent decades honing our very own hand-picked list of trusted partners to work with – giving you access to the very best the island has to offer.
From bookings and reservations to on-demand spa, massages and beauty experiences, medical services or general housekeeping duties, our clients appreciate the seamless, confidential service we provide –always with a smile.
We cover the entire island and cater to every possible need. Feel free to get in touch to discuss what we can do to make your life that little bit easier.
The future of the concierge industry
Currently valued at around $600 million, the concierge industry is booming, and is set to rise by 5.3% from 2019 to 2025.
The world's burgeoning middle classes are jostling for a slice of the luxury pie, and why not? As the demands and pressure of modern living intensify, the desire to tap into services that can alleviate some of the burden is increasing.
One emerging aspect of the market is the concierge app segment. Hotels are increasingly offering bespoke apps for their guests to use in lieu of staff. While these platforms can often make for a slick, speedy experience, nothing beats the personal experience and connections of people with real-life networks they can draw on.
Final thoughts: a little touch of luxury through concierge services
Using a trusted concierge service can make all the difference in how you experience life and the world around you. From small odd jobs to regular, recurring household tasks, and from luxury requests to standard company admin, concierges are trained to serve as discreet, confidential life enhancers.
Relocate Antigua gets you up and running with island life before you've even landed. We believe in taking a personal, client-focused approach to every job, working with you to shape a concierge package that speaks to your every need.
From organizing private chef and catering services to luxury private jet and helicopter transfers and everyday chores, get the VIP experience from people who care – contact us today to talk us through your lifestyle.