The role of a private residential housekeeper is an important one, as a trusted and valued member of the family household who has access to the personal lives of their employers.
Private housekeepers are often also entrusted with ensuring the security of the home, particularly where maintenance or emergency work has to be conducted on the property.
It can also be very nuanced work, as housekeeping responsibilities undertaken in private homes can include a range of housekeeping duties and roles such as a companion housekeeper, nanny housekeeper, or cook housekeepers.
So what can you expect from engaging a private housekeeper to keep your family home neat and tidy? Relocate Antigua talks you through everything you need to know…
What is a housekeeper?
It is important to distinguish between the role of a private housekeeper in an individual home, and housekeepers employed in commercial entities such as hotels, where housekeeping tasks are confined to cleaning bedrooms and public areas to specific corporate standards.
Think carefully about the option of having an additional person living in your home, or whether you would prefer to have a more distanced relationship with your housekeeper coming to work in your home each day.
Full-time live-in general housekeeper
Some full-time housekeepers are employed on a 'live-in' basis, which means they are provided with a private bedroom and sometimes a sitting room, together with meals in addition to a weekly or monthly salary.
Unless they are employed as nanny housekeepers, they will not usually be involved with taking care of children – however, this is completely dependent upon the role and the housekeeping job duties agreed between the housekeeper and employer.
This means that there is a high degree of individuality and flexibility within housekeeping roles, and is one of the main distinctions between a housekeeper and a household cleaner, whose principal duties are concerned only with cleaning the interior of the house.
Nanny housekeeping staff
Larger households may employ one or two distinct nannying housekeepers:
A nanny housekeeper whose time is balanced between housekeeping duties and responsibilities and childcare, and who may live with the family or live out and work part time, for five to six days per week, and up to 10 hours per day. 
A nanny housekeeper who works alongside a parent may focus on housekeeping, with nanny duties potentially only required when parents are working.
A nanny housekeeper who has sole responsibility for children will be completely focused on their care, and household duties will be completed when the children are at school. 
Combined housekeeping roles
In smaller family households one or more roles may be combined.
A cook housekeeper, for example, integrates the skills of a private chef with those of a housekeeper by providing nutritious and creative meals, together with thorough and regular cleaning of the house, completing laundry and ironing for the family, including dry cleaning, managing household projects, and caring for family pets.
Housekeeping duties list
Typical housekeeping duties in private homes will incorporate ensuring that all living spaces are always clean, tidy and welcoming – a very important part of creating the right ambience when the employer is returning home from a work trip or the family is back from a vacation. Because let's face it, it can be dispiriting to return from a fantastic holiday, to a cold and dusty house!
Housekeeping duties are not confined to mere cleaning of rooms –some household may employ a cleaner separately. Housekeeper duties may include:
• Light outdoor tasks such putting out rubbish for collection.
• Preparing breakfast and cleaning kitchen and breakfast room
• Keeping refrigerator clean and discarding out-of-date items
• Tidying and cleaning bathrooms, bedrooms and living areas
• Cleaning unused rooms on a less frequent but regular basis
• Polishing brass and silver, antiques and fine furniture
• Cleaning inside windows
• Collecting, washing, ironing and returning the laundry to the appropriate wardrobes and cupboards; hand washing delicate items.
• Arranging dry-cleaning
• Watering plants and caring for pets.
• Shopping for groceries.
• Making maintenance appointments with tradesmen, suppliers and contractors.
It is very important that as the homeowner and employer you make your expectations very clear so that there are no misunderstandings or disappointments.
Molly Maid provides a range of context specific cleaning schedules and checklists to get you started mapping out your needs.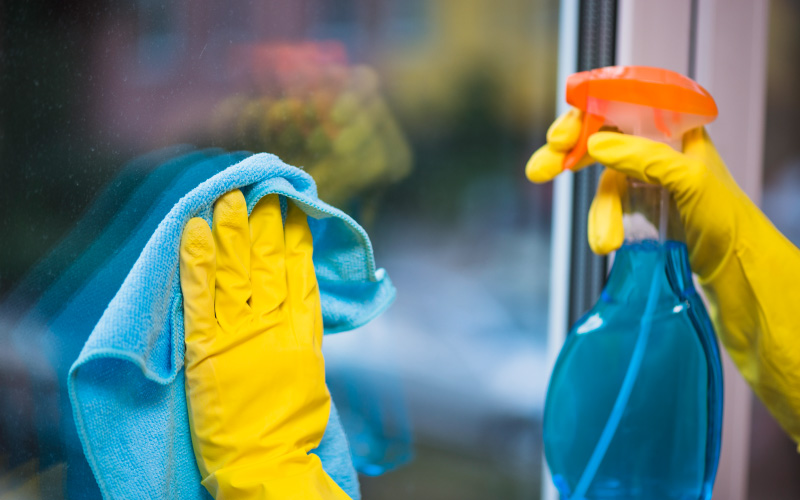 What do housekeeping manager duties entail?
Housekeeping manager duties are very similar to housekeeping coordinator duties, and to those of senior housekeeper duties and responsibilities in hotels and holiday villas.
A housekeeping manager in private residences is usually engaged where the employer or family have multiple homes, perhaps in several different countries.
The housekeeping manager or coordinator ensures that the housekeeper employed in each location is fully aware of the arrival and departure dates of the family. They fulfil a supervisory role to ensure that the property is properly maintained, and that the family encounter a pleasant, comfortable, and soothing environment on arrival.
What are the benefits of a housekeeper?
We now live in a world where multi-tasking has become the norm rather than the exception.
In most family households both parents are working full time. That leaves very little time for cleaning and maintaining the household in addition to the school drop off and collection, homework, engaging in family activities, and enjoying individual leisure and physical pursuits… The list goes on!
So what are the concrete benefits of hiring a housekeeper?
Save time
Of course, hiring a housekeeping company may seem to be an expensive luxury, but the additional time saved allows employers to pursue other business or work projects.
The American Cleaning Institute 2018 National Cleaning Survey indicates that 28% of people clean their homes more than 7 hours per week: the equivalent of one full work day.
Invest in what truly matters
Families also benefit from the support of a trusted individual who can ensure that the day-to-day activities of the home are taken care of, as research has found that the optimum use of family income is to improve happiness by increasing the amount of leisure time available.
Create space to relax
Knowing that cleaning and maintenance of your home is taken care of allows you to relax. A housekeeper can give your home and cherished belongings the time, care and attention that you may not have at the end of a busy working day, or if you have a hectic social calendar, or where you travel extensively.
Add an extra layer of security
Additionally, knowing your housekeeper is monitoring the security of your home is reassuring and alleviates any anxiety where the house may be empty for long periods.
How much does a housekeeper cost?
It is important to distinguish between housekeeper positions in hotels or commercial contexts which attract lower salaries (more often on an hourly rate, typically $8-$10), and private housekeepers who can command much higher salaries depending on the nature and range of duties.
Average salaries
Generally, housekeeper salaries in the UK can range from €30,000 to over €55,000 per annum.
In 2018, US News reported that maids and housekeepers made median salaries of $23,770 with the highest paid 25% making $28,630.
Costs are also dependent upon whether the role is live in or live out, and any additional agreed benefits such as transport and pension.
Cleaning and housekeeping positions in Antigua and Barbuda typically command 1,640 XCD ($606 in 08/2020) per month, but salaries can range from 1,170 XCD ($432 in 08/2020, lowest average) to 2,480 XCD ($917 in 08/2020) which is the highest average, although the actual maximum salary may be higher.
This average monthly salary includes the cost of accommodation, transport, and other benefits – all based on the specific housekeeping duties and responsibilities required.
Tax implications
It is also important to consider tax implications, depending on your country of residence and whether you are employing a full time housekeeper employee: as the employer you determine the work schedule, duties and responsibilities, and provide all products connected to the housekeeping role.
In this case, the employer must withhold or deduct Social Security and medical taxes and ensure that the housekeeper is a legal resident or permitted to work in your location.
The Internal Revenue Service of your home country can advise on tax rules for housekeepers. If the housekeeper is a self-employed contractor, usually where they are paid an hourly rate, they are responsible for their own taxes.
In most jurisdictions, a housekeeper is self-employed where they have more than one client, dictate their own hours and provides their own cleaning supplies. Where the housekeeper is employed by a home concierge service, they are responsible for taking care of wage or salary deductions.
How to hire a housekeeper
Of course, it is simple enough to place an advertisement for a housekeeper in the local newspaper or other local recruitment media such as GreatAuPair. However, perusing CVs, and setting up and conducting interviews is time consuming. Engaging specialist recruitment or staffing companies is an excellent solution where time is at a premium.
Relocate Antigua is on hand to assist you in finding your perfect housekeeper, drawing on our little black book of trusted housekeeping staff. Our teams can also help with drawing up contracts, negotiating pay and interviewing candidates – simply get in touch and talk through your needs with one of our experts.
Final thoughts: trusted housekeepers for peace of mind
The key to engaging a trusted and valued housekeeper who will essentially become a part of the family, is to be clear about needs and expectations.
The housekeeping role is varied and the type of housekeeping duties included in the job description depend upon the individual profile of the household, and the tasks that are required to maintain the household in the most efficient manner possible.
It is advisable to engage professional recruitment companies to assist with identifying the best housekeeper for your family home – and that's where Relocate Antigua comes in.
Thanks to our turnkey packages, our teams assist you every step of the way throughout your relocation and expat experience. In addition to our personal assistance and concierge service, the Relocate Antigua teams can put you in touch with tried-and-tested housekeeping staff for your home and office space.
Drop us a line today to discover how we can help you take the stress out of caring for your home.