Finding your way to the Caribbean islands of Antigua and Barbuda is your first step towards paradise. Whether by plane, yacht or cruise ship; here you will find all the possibilities to reach the tropical islands.
Found in the heart of the Caribbean, Antigua and Barbuda are situated around 1,000 miles from Jamaica and 500 miles from the islands of Trinidad and Tobago found on the South American coast. Antigua and Barbuda are surrounded by crisp clear waters that draw in tourists from around the globe by means of the Antigua airport and main ports around the islands.
The charm and authenticity of Antigua and Barbuda pays a lot to the island sovereign state's white beaches, blue Caribbean Sea, hours of sunshine and excellent entertainment opportunities. The food, culture, history and the local way of life give Antigua and Barbuda the unique elements that keep the tourists coming back for more; or even relocating to the tranquil and peaceful country.
Antigua and Barbuda serve as the perfect escape from city life and everyday routines and open your eyes to an entirely different approach towards life. The luscious greenery and underwater beauty are reason enough to take a trip to these Caribbean islands; and finding your way there has been made far easier with Relocate Antigua's comprehensive guide on how to get to Antigua.
By plane or boat, your visit to Antigua and Barbuda will surely meet all your expectations and more.
Flying to Antigua and Barbuda
The easiest way to get around is definitely by plane… so much so that you can say that your holiday starts once you board the aircraft and take off to your next destination. A flight to Antigua and Barbuda can be your perfect getaway for the vacation of your dreams.
Cheaper travel prices usually require connecting flights that might delay your arrival slightly, but it will also free up some extra spending money during your trip. If you are looking for a direct flight though, there are quite a few options to choose from.
The national airport of Antigua and Barbuda, V.C. Bird International Airport, is very well connected; even though the country does not have its own national airline, a number of direct flights operate regularly to and from Antigua. With airlines such as British Airways and Virgin Atlantic where flying out of the UK, Europe would take approximately 9 hours from London. While a 4 hour and 20 minute flight with Delta, American Airlines and United is how to get to Antigua from NYC, USA.
Some inter-connecting flights that set course to Antigua include, LIAT; from St. Kitts, St. Maarten, Dominica and Guadeloupe. If you are flying from Trinidad and Tobago or Barbados; to Antigua, you'll be able to use Caribbean Airlines.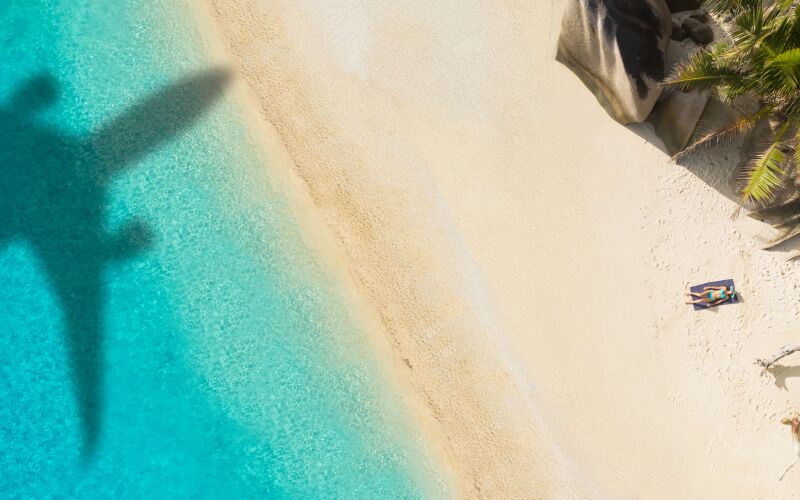 If you're looking for advice on how to find the best route to Antigua and Barbuda; contact one of our Relocate Antigua experts to guide you towards the best path from the following destinations;
| | | |
| --- | --- | --- |
| Caribbean | USA and Canada | Europe |
| Anguilla (AXA) Barbados (BGI) Dominican Republic (SDQ) Dominica (DOM) Guadeloupe (PTP) Nevis (NEV) Puerto Rico (SJU) St. Barths (SBH) St. Kitts (SKB) St. Lucia (SLU) St. Maarten (SXM) St. Thomas (STT) St. Vincent(SVD) Tortola (EIS) Trinidad (POS) | Atlanta, Georgia, USA (ATL) Charlotte, North Carolina, USA (CLT) Miami, USA (MIA) Montreal, Canada (YUL) New York, USA (JFK) Newark, New Jersey, USA (EWR) Providenciales, Turks and Caicos (PLS) San Juan, Puerto Rico (SJU) Toronto, Canada (YYZ) | Frankfurt, Germany (FRA) London, UK (LGW) Manchester, UK (MAN) Milan, Italy (MXP) |
Departure times and destinations for direct flights to Antigua
If you are looking to head to Antigua (ANU) on a direct flight; here are your main options;
How to get to Antigua from USA
The best way to get to Antigua from the US is from the following airports;
American Airlines can be used to fly direct to Antigua on a daily basis from John F. Kennedy International Airport (JFK) and from Miami International Airport (MIA).
Every Saturday and Sunday flights to Antigua from Newark (EWR) are available through United Airlines.
Direct flights from Atlanta (ATL) and JFK are available every Saturday with Delta Airlines.
Every Tuesday, Thursday and Sunday JetBlue offer direct flights from JFK to Antigua.
U.S. Airways also flies direct to Antigua every Saturday through Charlotte NC (CTL).
Direct flights from Canada to Antigua
Nonstop flights to Antigua from Canada are also possible;
From Toronto (YYZ) to Antigua every Saturday and Sunday with Air Canada.
Every Wednesday and Sunday during the winter months from Toronto with West Jet.
Direct flights from Europe
Europe is well connected to Antigua with a number of direct flights available;
Condor Airlines flies to Antigua during the winter months via Manchester, Vienna and most major airports in Germany.
Condor also partner with other carriers such as Lufthansa and Alaskan Airlines to offer direct flights to Antigua.
Direct flights from the UK, Europe to Antigua
Most flights from the UK, Europe are scheduled for mid-morning departure, here are the main airports and airlines offering direct flights;
Catch a direct flight to Antigua from London Gatwick with Virgin Atlantic every Tuesday, Friday and Saturday throughout the year, with Thursdays added as an additional flight during the winter months.
London Gatwick also caters for daily flights through British Airways.
Fly Thomas Cook from Manchester on Tuesdays to get to Antigua on a direct flight.
During April 2019, Antigua was met with 11,709 visitors from the USA alone with an additional 9.92% increase in UK visitors, 32.75% increase in European travellers and 14.81% increase in Caribbean visitors. April 2018 – April 2019 saw 117,920 visitors travel to the Caribbean islands of Antigua and Barbuda.
If you're looking for a vacation escape that meets your every expectation, trips to Antigua can take you directly to paradise in absolutely no time. Contact Relocate Antigua if you are hoping to rent a car, airport transfer or reservations needed to make your trip that much better!
Getting to Antigua by boat
Antigua and Barbuda are surrounded by the glorious blue waters of the Caribbean Sea, so getting to the islands by boat is a highly recommended solution. While the journey is longer, the sites and experience will give the voyage an excellent start met with an abundance of sea life, the ocean breeze and the freedom of open waters as you glide through the Caribbean Sea.
Antigua features many ports of entry around the island for larger boats and ships:
English Harbour
Deepwater Harbour
Jolly Harbour
Heritage Quay
Private boaters are encouraged to use the following:
St John's Harbour (West coast)
English Harbour (South)
St James Club (South)
Crabbs Marina (North East)
If you are planning to voyage onto Barbuda with your private charter boat or yacht, you must first be cleared in one of the official Antigua main ports before docking in Barbuda.
Where to dock in Antigua when travelling by yacht
Travelling by yacht to any island or country is a great experience; mostly due to the fact that the holiday feeling is already in full swing. Boarding a yacht to get to the main island of Antigua is an excellent adventure to begin your Caribbean holiday; with ample opportunities to sit back and enjoy the sunshine, and maybe even catch a quick dip in the clean blue water that surrounds you.
These are the recommended ports to set sail for when making your way by yacht;
English Harbour
English Harbour is a settlement on the extreme south end of Antigua that proudly boasts its natural harbour. Dating back to the Royal Navy's occupancy in the 18th century, English Harbour was home to Nelson's Dockyard and serves as a point of entry for Falmouth Harbour. The customs and immigration office for visitors to Antigua are found in Nelson's Harbour and serve as the admission point for any yachts entering the islands through English Harbour.
Local harbour fees must be settled by any yachtsmen entering the harbour. If you are thinking of travelling to Antigua by yacht via English Harbour, get in touch with our team of travel experts at Relocate Antigua for the tips and tricks of safe docking.
Jolly Harbour Marina and Boatyard
The Jolly Harbour can be found on the west coast of Antigua, this sheltered port is the first port you will come across when travelling towards Antigua from St. Martin. Jolly Harbour is a great location in Antigua, with ample beaches, snorkelling destinations and even spectacular hubs for entertainment, food and culture.
Jolly Harbour Marina and Boatyard offers 24 hour security covering its fully serviced docks with berths, deputy-free fuel and a conveniently located customs and immigration office that can be accessed on site.
St. John's Port
St. John's is the capital of Antigua and Barbuda, this lively, colourful and authentic city gives Antigua its charm and draws tourists into its way of life year in and year out. St. John's Port is usually occupied by commercial ships but berthing your yacht in this area is sometimes possible too. An alternative location within the St. John's area is Heritage Quay; conveniently equipped with a customs and immigration office located directly on the quay.
Yachters will not be charged for use of the inner harbour and access to neighbouring Redcliff Quay is also granted. The port is equipped with grocery stores, water and fuel points as well as dinghy docks for better access and comfort.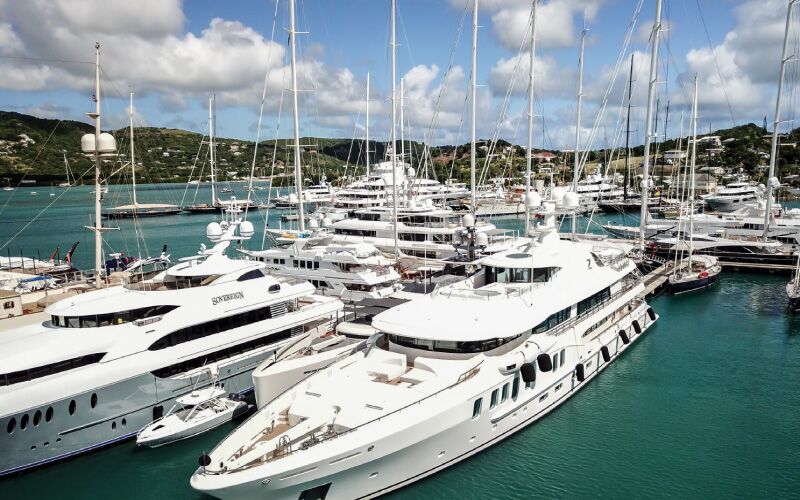 Travelling to Antigua by cruise ships
If you are not solely travelling to Antigua, but rather voyaging around the Caribbean, a stop in Antigua is highly likely to be the highlight of your cruise. Your first meeting with Antigua will be through St. John's Port – the capital of the islands and home to great entertainment and relaxation opportunities.
While exploring the area of St. John's is highly recommended, taking a tour with your cruise ship's tour guide will be a great way to see the bulk of Antigua during your brief visit. Some of the top cruises travelling to Antigua include Black Watch, Club Med, Windstar and others.
One of the most important factors to take into consideration when travelling by cruise ship is the first port you will leave from; luckily, there are many starting points you can choose from to make your way to Antigua:
A 14 night P&O Cruise to Antigua leaving Barbados with stops along St. Vincent, St. Kitts and others.
A P&O Cruise lasting 14 nights heading towards Antigua. This cruise sets off from Southampton and stops by Porto Santo.
Day 1 of this 10 night cruise offered by Celebrity Cruises is Fort Lauderdale, with a swing past St. Maarten and St. Lucia before arriving in Antigua.
An 8 night cruise offered by Royal Caribbean International leaving Miami, with a stop off in St. Lucia.
Leaving Portsmouth, this Saga Cruises trip lasts 31 nights and visits Ponta Delgada on the way to Antigua.
You can also opt for a 7 night cruise leaving San Juan via Royal Caribbean International with a visit to St. Thomas and St. Kitts along the way.
A cruise to Antigua, starting in Barcelona, via Malaga will last 16 nights and is chartered by MSC Cruises.
With this comprehensive list of cruises heading towards Antigua from different locations; your route and duration choices are endless. Each trip offers its convenience in location and added perks of visited countries and stops along the way to Antigua and Barbuda. Get in touch with Relocate Antigua for details on which cruise might best suit your needs.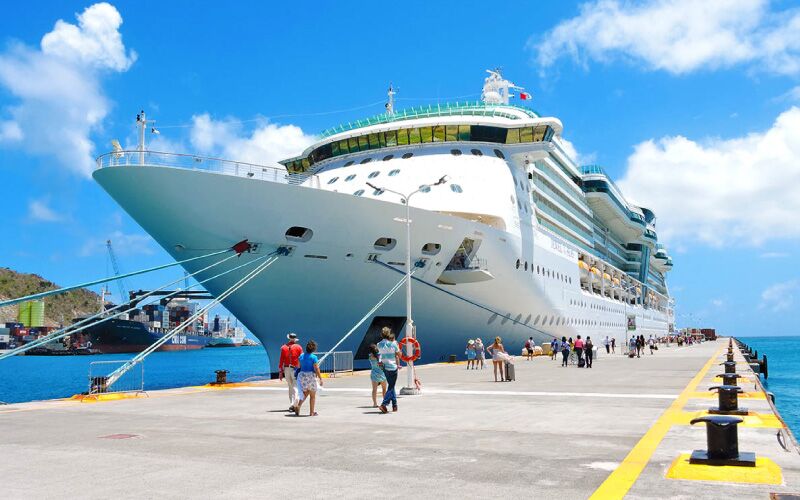 Getting from Antigua to Barbuda
Travelling to Antigua and Barbuda, but only visiting Antigua alone means that you'll be missing out on the amazing island life of Antigua's little sister – Barbuda. This adventure is so easily achieved that it is recommended for all travellers, no matter how long their visit.
The ferry from Antigua to Barbuda is a short 90 minute trip with a scenic route guiding your way on the high speed catamaran serviced by Barbuda Express (see below for times). The trip starts from St. John's Long Street dock and runs 6 days a week during winter and summer months. You may also opt for departure from Jolly Harbour. The Barbuda Express does not service the island connection on Saturdays but can easily be booked for private charter services for the day.
The quick trip makes for great accessibility for business relocation services and even personal relocation services citizens looking to take a trip to the neighbouring islands. If you are in Antigua for a shorter time and wish to make the most of your trip, Barbuda Express also offers day trips around the island with an additional lobster lunch as an add-on. This is available every day except Saturday and Sunday. Contact Relocate Antigua to get your reservations and bookings set up before your visit to avoid disappointment.
The Barbuda Express ferry from St. John's runs as follows;
| | | | |
| --- | --- | --- | --- |
| | Departure St. John's | Departure Jolly Harbour | Departure Barbuda |
| Monday | 07:00 | | 15:45 |
| Tuesday | 07:00 | 08:00 | 15:45 |
| Wednesday | 06:00 | | 19:45 |
| | 14:30 | | 16:30 |
| Thursday | 07:00 | 08:00 | 15:45 |
| Friday | 07:00 | | 15:45 |
| Saturday | private charter available | private charter available | |
| Sunday | 12:00 | | 15:45 |
Visa and Immigration Entry Requirements
Travelling to Antigua and Barbuda is a dream come true, but access to the islands needs to be planned in advance. Many citizens across the globe require visas to accompany their passports for valid entry into the country. While many countries are exempt from visa application before entering the islands, checking your status with an expert at Relocate Antigua could help you gain easier access to the islands.
How can I get a visa to travel to Antigua?
Since Relocate Antigua deals with Antigua citizenship, residency and investment programmes on a daily basis, we are always aware of travel to Antigua passport requirements by keeping up to date with the laws, regulations and details that visa offices are looking for.
If you are looking for information on entry into Antigua and Barbuda, you will need to sort out your Antigua visa, documents and even apply for temporary permits if you are looking to stay in the country for a longer duration. All Antigua flights need to be booked with a return ticket; contact Relocate Antigua to get the full details based on your country of origin, legal status and visit specifications.
Make travelling to Antigua a breeze
No matter how you get to Antigua and Barbuda, you're sure to have the time of your life under the palm trees by the clear blue seas.
Your trip could be fast and direct by means of the many airports and airlines that fly to Antigua, or you could opt to start your holiday early with a cruise ship tour of the Caribbean prior to your arrival on Antigua and Barbuda.
If you're in need of an extra treat this vacation, charter a yacht to make your way to the mainland and be sure to book a visit to Barbuda by means of the ferry connecting the islands.