How much does it cost to relocate? This is the question you'll most likely be asking yourself when a long-awaited opportunity to jet off for bluer skies rolls in.
If you're looking for information on the average relocation cost and what relocation packages include, then rest assured. As specialists in personal relocation services and business relocation services, Relocate Antigua offers up its expert insight to get you prepared.
Cost factors in relocating
Before you set about negotiating your relocation package with your employer, it's a good idea to think ahead and start mapping out the costs your move is likely to incur. As a general rule, there are a few staples that most people will need to cover when they prepare for a job relocation and long-distance move…
Your real estate needs
Will you be buying property in your new location? Do you currently own your own home? If so, you'll need to factor in deposits, home sales, viewings, cleaning costs, insurance, purchases and all other related fees as part of your relocation budget.
Temporary housing
When you touch down in your new location, it's likely you'll need a little time to get your bearings. You may not want to invest or lock yourself into a purchase or long-term contract before you've got a sense of your new home. Short-term accommodation can be pricey, and is likely to form a large chunk of your relocation budget.
Moving expenses
Companies offer pared-back man-with-a-van removal services for clients on a budget, as well as turnkey packages that include wrapping, packing and paperwork. Do your research, and think about what you truly need.
International relocation shipping costs
Shipping your belongings half-way around the world is no mean feat, and comes with a price tag to match – especially if you plan on using courier services . If your new home is tight on space, you'll also need to factor in storage costs and insurance.
Admin fees and paperwork
Just when you thought you had everything accounted for, you then need to turn your attentions to paperwork, admin and securing all the right documentation to support your move.
Relocate Antigua 's expert teams are well versed in the intricacies of handling visas and work permits and walking you through your residency and citizenship applications through our immigration services. And we can even help with supplying certified translations for a quick and easy relocation experience.
Check and print out our downloadable relocation assessment checklist as a starting point.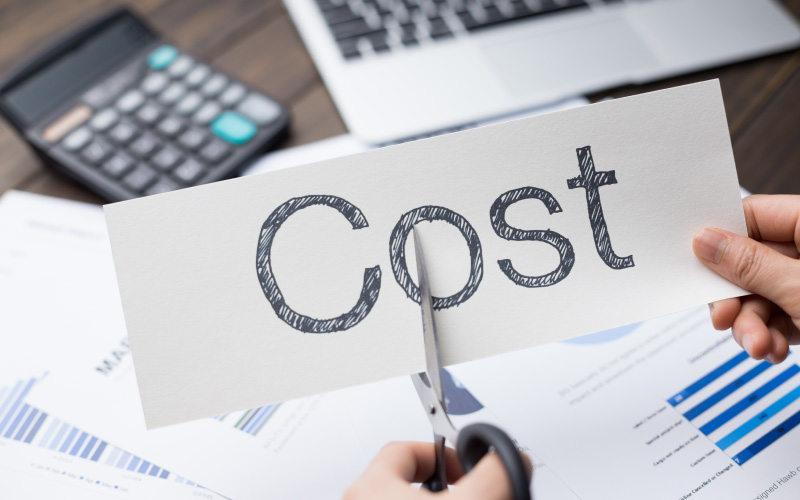 How to reduce relocation costs
If you're looking to maximize your relocation budget, there are a few things you can look into.
Do it yourself
We're not talking about strapping your grand piano to the back of your car and embarking on a week-long road-trip – but consider what aspects are truly essential to your relocation, and what you could just as well cover yourself.
Packing boxes, cleaning your house, and researching new properties, for example, are all things you could handle alone with a little forward planning.
Shop around
Get a few different quotes from multiple companies before signing on the dotted line. Sterling, Seven Seas Worldwide and 1st Move are all renowned international relocation companies that offer quote calculators on their websites.
Do your research, contact companies to negotiate rates and don't jump at the first offer.
Keep things simple
While it can be tempting to take each and every last beloved possession with you, be ruthless and use common sense. Unless your car is a collector model, is it really worth the paperwork, insurance and shipping costs to get it where you need to be? Or might you be better off selling it, and buying a new vehicle when you arrive?
Similarly, the digital age has paved the way for a host of new possibilities when it comes to planning ahead. Is short-term accommodation truly necessary? Or could you work with a forward-thinking estate agency that offers virtual viewings, giving you access to the full comfort of your very own home as soon as you land?
Simplifying and cutting back won't just take the hassle out of moving – it'll streamline your relocation budget, too.
Go pro
It may seem counterintuitive, but the fact is that reaching out to professional experts can save you time, stress and money, too. Relocate Antigua is one example of this, putting specialist teams to work on smoothing over any bumps that can crop up as part of the relocation process.
Our relocation services offer a carefully crafted selection of the tools you need to hit the ground running when you land in Antigua. We can introduce you to our trusted partners and invaluable local networks, while assisting with real estate, paperwork, concierge and VIP services and all your local and international banking needs.
Drawing on our little black book of exclusive contacts, we get in touch with the right people to secure discounts and premium service on your behalf – the kind of thing that's hard to achieve alone when you're freshly arrived in town.
How much is the average relocation package?
So how much will a company pay for relocation? Average relocation packages will always vary depending on where you're going and where you're coming from.
What relocation packages include
Employers will often include the following basics as part of their standard relocation package for staff. Don't forget to go into your relocation interview well prepared and primed to negotiate.
House-hunting assistance
Property-related expenses
Moving company expenses
Family support
Practical expenses
Lump sums
For an in-depth assessment of what these packages typically include, head over to our article on what relocation assistance is.
Calculating your relocation costs
There are several relocation calculators out there that can help generate a ballpark figure for your move.
Three-bedroom house
2,000-mile move (equivalent distance: New York to Antigua)
One car shipped included
Temporary housing for three months
Three house-hunting trips included
Here were the results:

We tried the same tool, allowing for the same housing add-ons but:
Upping the distance to 4,000 miles (equivalent distance: London to Antigua)
Dropping the property size to a one-bed apartment
Removing the car option
Adding three months of household goods storage.
The relocation Cost Estimator worked its magic:

This figure almost doubles, however, when we go all out:
Four-bedroom house
10,000-mile move (equivalent distance: Sydney to Antigua)
Two cars shipped
Temporary housing for three months
Three months of storage
A Final Move Trip
Corporate relocation costs
Tax breaks, investment schemes, cheaper labor, operating costs and premises, changes in regulations, or simply moving closer to raw materials, suppliers and clients: there are plenty of good reasons why a company may want to relocate.
Employers looking to relocate an entire company need to take into account a number of aspects that will impact on their relocating costs, including:
Insurance
Furniture
Premises and physical assets
Staff hours injected into the relocation process (payroll)
Communication costs including updating marketing materials and things like business cards
Utility bills
Leases
Real estate agency and sales fees – and the list goes on.
Companies are well advised to assign an employee to the position of relocation manager, and let them draw up an inventory and budget for the move.
How much it costs a business to relocate an entire company varies wildly depending on location, size, staff numbers and premises.
According to small business loan provider Credibly, a medium-sized manufacturing company housed in buildings ranging from 25,000 square feet to 30,000 square feet could be looking at anything from $100,000 to $150,000 to relocate.
The cost of relocating employees
It can cost up to $100,000 to fund a single employee's relocation package if the individual in question is a homeowner. The costs associated with assisting employees in rented accommodation come in lower, starting at around $24,000.
More companies than not have relocation schemes today, because retaining talent is very often worth the price tag.
Final thoughts: maximizing your budget and covering all bases
Relocation can be a costly process once you've budgeted for larger-ticket items such as international shipping, property and storage, as well as factoring in easily forgotten aspects such as pet insurance and flights.
The secret to a relocation that won't break the bank is planning ahead, negotiating, cutting out all unessential frills, and working with trusted professionals with experience on the ground.
Pick up the phone and reach out to Relocate Antigua's relocation team for more details on how we can help transform your move, and let us take the hassle out of arranging your relocation.