An interesting overview with all the facts about the sovereign island state!
Whenever we hear somebody say Antigua (pronounced an-tee-guh) and Barbuda we instantly think of tropical climate, sandy beaches and a scenic coastline. But where is Antigua and Barbuda located? It is an island nation in the Caribbean sea, part of the Leeward Islands in the West Indies. If you look at the map, you'll find it southeast of Puerto Rico and about 100 km north of Guadeloupe.
Antigua & Barbuda are the state's two largest islands, but also included are some smaller nearby islands including Redonda, Great Bird, Green, Guiana and Long. Antigua is the main island, home to the capital city of St. John's. The largest town on Barbuda is Codrington, though the vast majority of Barbuda's residents moved to Antigua following Hurricane Irma in 2017.
Because of its prime geographical position, tropical climate, and the fact that it is considered a safe place to travel, Antigua and Barbuda has enjoyed a steady stream of tourists since independence, the numbers drawn by its scenic coastline and luxury resorts. It's also a hub for international business, providing offshore financial services to companies whose owners get to enjoy the beauty and leisure activities the island has to offer.
Antigua was a British colony until 1981, so English is the official language, and Queen Elizabeth II of the United Kingdom is still nominal head of state.
GEOGRAPHY OF ANTIGUA AND BARBUDA
Antigua and Barbuda are both low-lying islands, without the steep mountains and forests of their neighbours in the Leeward Islands. They are known mainly for their lagoons, reefs, natural harbours and of course their scenic beaches such as Valley Church Beach, Darkwood Beach or Fryyes Beach, these being the features that draw over one million tourists every year.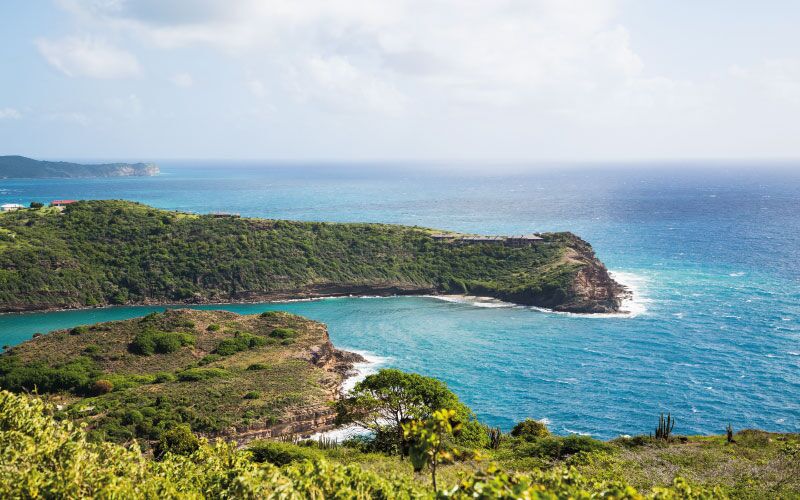 Details:
total area of Antigua and Barbuda: 170 square miles (442 km²)
Antigua size: 108 square miles (280 km²)
highest point on Antigua: Mount Obama, rises 402 metres in the Shekerley Mountains, a low mountain range on the south coast of the island
Barbuda size: 62 square miles (161 km²), lies 25 miles (40km) north of Antigua Island
Barbuda is similarly flat with highlands rising to 143 feet at Lindsay Hill
Though much of Antigua and Barbuda's flora and fauna was heavily impacted by colonialism and now tourism, there is still great biodiversity on the island and the surrounding sea is rich in marine life including some endangered species. The 60-hectare island of Redonda, located 50 km west of Antigua, is known for its biodiversity, still homing several endemic lizard species, as well as major colonies of seabirds.
Antigua and Barbuda's time zone is Atlantic Standard Time (GMT-4).
WEATHER & CLIMATE IN ANTIGUA AND BARBUDA
Antigua and Barbuda has a year-round tropical maritime climate, which comprises two main seasons, wet and dry. The wet season lies between mid June and mid November, and is hot, humid and rainy. The relatively cool, dry season happens from January to mid-April, though it is actually rather hot and humid all year round, and the amount of rain distinguishes the two seasons more than the variation in temperature. The northeast trade winds, typical of this climate, blow all year round, though more steadily in the cool and dry season.
Antigua gets an average of 990mm (39 in) of rain per year. Despite this, droughts are common because there are no rivers and few springs. Temperatures on the islands average 27 °C, ranging from 23 °C to 29 °C in the (dry) winter, and from 25 °C to 30 °C in the (wet) summer and autumn.
Hurricanes are common in tropical climates, and so they strike Antigua and Barbuda once a year on average. In September 2017, the category 5 Hurricane Irma damaged 95% of the structures on Barbuda, meaning most inhabitants had to move to the mainland.
POPULATION & LANGUAGE OF ANTIGUA AND BARBUDA
Antigua and Barbuda currently has a population of 98,179, many of whom live in St. John's on the mainland.
The majority of the Antiguan population is of African descent. This is because Africans were originally brought over to the islands as slaves by the European colonists, and once emancipated, eventually outnumbered their captors to form today's population. Ethnic groups are distributed roughly as follows:
African descent 87.3%
Mixed 4.7%
Hispanic 2.7%
White 1.6% – mostly of Irish or British origin
Other 2.7%
Unspecified 0.9% (2011 est.)
Religion
The predominant religion, practiced by two thirds of the population, is Christianity, specifically Protestant. Minority (non-Christian) religions include Rastafarianism, Islam, and Bahai Faith.
Language
Antigua and Barbuda's official language is English, but Antiguan Creole is widely used outside official settings. This is heavily influenced by West African structures, inherited from the peoples brought over to the island during the colonial period. Many of the proverbs used in conversation also derive from African sayings.
Other languages are spoken in Antigua owing to minority groups such as Hispanics.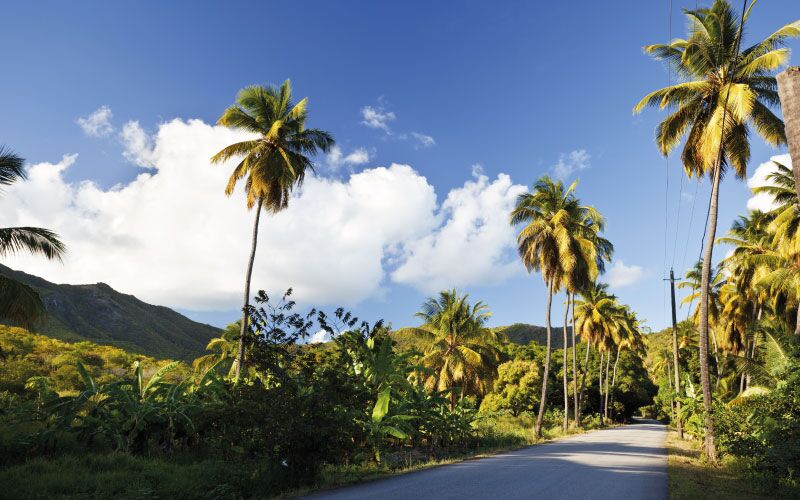 ANTIGUA'S HISTORY
The first known settlers of Antigua were the Siboney in 2400 BC, but they had been taken over by Arawak Indians by the time Christopher Columbus landed here in 1493. The Arawaks referred to the island as Wadadli, but if you're wondering what the meaning of 'Antigua' is – it was a name given by Columbus, after the church of Santa Maria de la Antigua in Sevilla, Spain.
The island was colonised by the British in 1632, and they established large sugar plantations worked by African slaves. The slaves' brutal conditions led to failed revolts in 1701, 1729 and most notably in 1736. Slavery was finally abolished in 1834.
In 1967, following unsteady post-slavery years and membership in the short-lived West Indies Federation, Antigua became an internally self-governed state, though the United Kingdom kept responsibility for external affairs and defence. An independence movement developed in the 1970s, led by Antigua's prime minister George Walter. Eventually, under Vere Bird's government, Antigua and Barbuda achieved full independence on November 1, 1981, with membership to the Commonwealth of Nations and United Nations.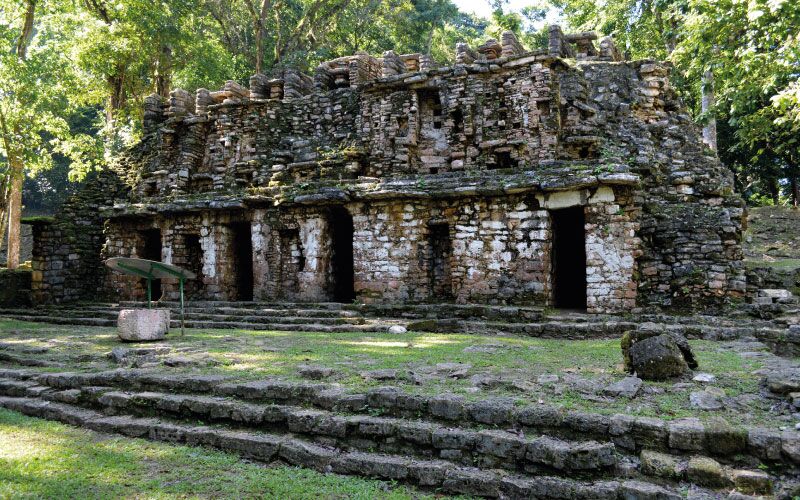 ANTIGUA FLAG
In 1966, Sir Reginald Samuel, an Antiguan artist, sculptor, painter and art teacher, won Antigua's national flag design competition. The story goes that he created the design in about half an hour and entered at the last minute.
Now, onto the meaning of the flag. The dawn of a new era is represented by the 7-point golden sun. The colour red hints to the work, life and blood of the slaves who built the country, blue represents hope, black the soil as well as the people's African heritage. Gold, blue and white symbolise the country's sun, sea and sand, while the 'V' formed by the red borders stands for 'victory at last'.
CULTURE ON THE TROPICAL ISLANDS OF ANTIGUA AND BARBUDA
Because Antigua's inhabitants are predominantly of African descent, the culture too is heavily influenced by African roots, permeating all areas from food, to music and language. Antigua's main music genres include calypso, steel drum and reggae.
Carnival is a big cultural event in Antigua, celebrated for 10 days in July and August each year to commemorate the emancipation from slavery. Expect live music, intricate costumes and vibrant parades.
The European influence on the islands can be found not only in the language, but also in sports, where cricket is the most popular. Antigua has produced some of the best cricket players in the world, including Andy Roberts, Richie Richardson, Curtley Ambrose, and Viv Richards.
IS ANTIGUA SAFE?
When it comes to the crime rate, Antigua is generally considered a safe country, with average crime numbers. Petty street crime does occur, but the main concerns currently facing the country are those related to international fraud, drugs, and human trafficking.
ANTIGUA AND BARBUDA'S GOVERNMENT
Antigua and Barbuda's government is a constitutional monarchy. This means that executive power and duties are carried out by the government and prime minister but the monarch, Queen Elizabeth II, remains the formal head of state. She is represented by a governor-general, currently Sir Rodney Williams.
While the prime minister – currently Gaston Browne (*2020) – and council of appointed ministers hold executive power, legislature is facilitated both by the government and by two chambers of parliament: the senate and the house of representatives. Antigua and Barbuda's constitution was formed in 1981, upon achieving independence.
As a former British colony, Antigua and Barbuda is a commonwealth country. Member states of the commonwealth are not legally bound to each other, but share their colonial heritage and connection to the United Kingdom, use of the English language, and values of democracy, human rights and the rule of law. The Commonwealth Games is a multi-sports event for athletes from the Commonwealth of Nations and takes place every four years since 1930. Amongst others Commonwealth Games sports are boxing, hockey and squash.

The Commonwealth Games is an international multi-sport event involving athletes from the Commonwealth of Nations. The event was first held in 1930, and has taken place every four years since then.
BUSINESS & ECONOMY OF THE ISLAND STATE
Tourism is the main driving force of the economy in Antigua and Barbuda, with about 60% GDP and 40% investment. The picturesque islands attract more than 1 million tourists per year, and like its neighbours in the Caribbean, the country is renowned for its luxury resorts. Antigua and Barbuda is especially popular with visitors from the US, Europe and Canada.
Despite this, Antigua's economy suffered a blow after the global economic crisis of 2008 and a subsequent decline in tourism.
Agriculture, forestry and fisheries account for only a small proportion of Antigua and Barbuda's economy. Although agricultural land takes up about 30% of the total land area, only about 2.8% of the total workforce is employed in this sector. So, the agricultural industry is focused less on commercial farming, and more on subsistence farming. Which means that most of the crops and livestock raised are not for sale or trade, but to maintain the farmer and his family.
Antigua and Barbuda produce some commodities for local and international export but imports the majority of its food, for the majority who aren't subsistence farmers.

Agricultural products grown on the islands:
cotton
bananas
coconuts
cucumbers
mangoes
sugarcane
Antigua also has a small manufacturing industry, producing bedding, handicrafts, electronic components and transport equipment.
The Antigua and Barbuda currency is the East Caribbean Dollar (XCD).
These are some of the commercial banks currently operating in Antigua and Barbuda:
Antigua Commercial Bank Ltd (ACB)
Scotiabank (formerly Bank of Nova Scotia)
Barrington Bank
Eastern Caribbean Central Bank
Royal Bank of Canada (RBC)
If you are thinking about relocating to Antigua and Barbuda it is beneficial to have industry professionals, like Relocate Antigua, to help you navigate through Antigua banking procedures and find the best solutions for both personal and corporate banking.
MEDIA
There is one daily newspaper in Antigua & Barbuda, The Daily Observer. Since 2018 it is only available online. Other news publications include the High Commission's Antigua and Barbuda News, and Caribarena, which also covers other Caribbean states.
The local television channel is ABS TV 10, showing exclusively local programmes. Cable TV is available with a variety of programs from the US, such as HBO and ABC. Local and regional radio stations include:
Observer Radio 91.1 FM (news, entertainment)
Red Hot Flames Radio 98.5 FM (reggae, calypso)
Second Advent Radio 101.5 FM (gospel)
Abundant Life Radio 103.9 FM (talk, gospel)
Crusader Radio 107.3 FM
Nice FM 104.3.
TRANSPORTATION ON THE ISLAND NATION
There are about 1,170 km of roads on Antigua & Barbuda, 33% of which are paved. Driving is on the left hand side, with a national speed limit of 40 mph (65 km/h).
Public buses operate daily from 5.30AM to 6.00PM, between the capital St. John's (which has two bus stations) and a number of villages. Taxis are widely available, regulated by fixed fares set by the government rather than a metered system.
V.C. Bird International Airport is the country's main airport, located 8km from the capital St. John's on Antigua's northeastern coast. Codrington on Barbuda has an additional light aviation airstrip. LIAT (Leeward Islands Air Transport) is a successful local airline servicing the Caribbean area.
The main seaport for industry and tourism, and also a major transportation hub for the Caribbean, is St. John's deep-water harbour.
EDUCATION IN ANTIGUA AND BARBUDA
Primary and post-primary education in Antigua is compulsory and free for children between the ages of 5 and 16. To enter into the secondary system, children must complete common entrance examinations. The state then provides full five-year secondary education, after which the students are equipped to take Ordinary Level (O'Level) exams, not unlike GCSEs in the UK.
The country has a literacy rate of more than 90%, one of the highest in the eastern Caribbean.
Antigua currently has three foreign-owned private medical schools, catering mostly to foreign students but also making a valid contribution to the local economy. These schools are:
The University of Health Sciences Antigua (UHSA), founded 1982
The American University of Antigua (AUA), founded 2004
The Metropolitan University College of Medicine
Other post-secondary and tertiary education establishments are:
Island Academy International, offering the International Baccalaureate
The government-run Antigua State College
The Antigua and Barbuda Institute of Information Technology (ABIIT)
Antigua and Barbuda Hospitality Training Institute (ABHTI)
The University of the West Indies with a campus on Five Islands
CONCLUSION
On the surface, Antigua & Barbuda is quintessentially Caribbean, with all the flair and culture of the region, a tropical climate, beautiful beaches, and warm locals. This alone is enough to attract millions of tourists to its shores.
Looking deeper, the nation's history is nestled deeply in British colonialism, a legacy that has shaped the island today from its population, to its language, to its education and government. For this reason, it's an international hub for tourism and business, and an accessible destination for any English speaker.
There are many reasons Antigua and Barbuda is undeniably an attractive destination to relocate to. You can read about some of those reasons in our magazine:

But when it comes to relocating there are also a million and one things to think about from immigration to Antigua and Barbuda and work permit processes, to setting up bank accounts. We at Relocate Antigua are here to assist you with this and much more. If it's finding a house for rent in Antigua, assisting you with the Citizenship by Investment Program or if you are in need of certified translation services, our professionals will make relocating to Antigua & Barbuda as easy as possible for you.

Contact us for a free initial consultation.