A true Caribbean experience is not complete without basking in nature and treating yourself to adventures. With 365 beaches, Antigua is one of the best islands in the Caribbean to enjoy watersport activities, and for this reason, it is very frequented by those who enjoy taking full advantage of the ocean. But which activities are most common and where can you enjoy your favorite ones?
Whether you want to do some calm kayaking or exhilarating kitesurfing, there is something for every person here. In this article, we will highlight some of the best Antigua watersports.
General information
Watersports or aquatic activities are performed for four main purposes including:
Educational
Therapeutic
Recreational
Competitive
If you need watersport lessons, there are several establishments that offer courses. Most hotels offer guided watersport activities as part of their all-inclusive packages. Let us set you up with your Antigua watersport classes so you can begin enjoying the beaches of Antigua.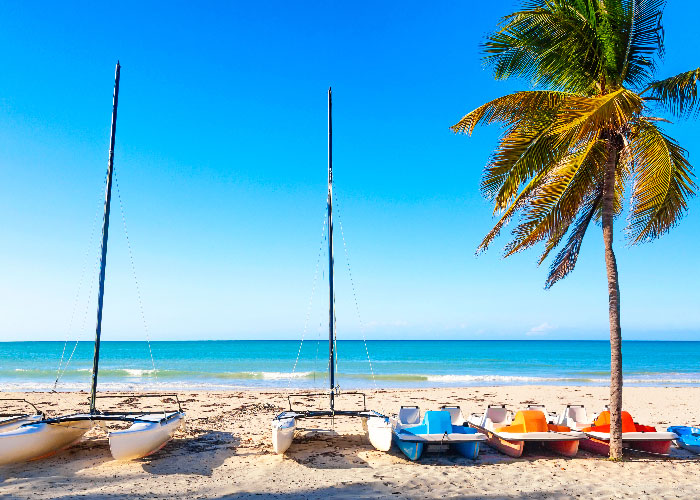 Competitive watersports in Antigua
If you are into competitive watersports, you would be delighted to know that there are several organizations and events that you can participate in. These include:
Antigua Sailing week- The Antigua and Barbuda Sailing week is an annual event packed with exhilarating events and activities for yachting and sailing fanatics. The event is hosted at English Harbor and consists of several yacht races, ceremonies, and parties. For more information, you can read our article on Antigua Sailing week or visit the official Antigua sailing week website.
The Antigua and Barbuda swimming federation- This organization hosts the National Open Water Swimming Championships which is an exciting competition held each year at Fort James Beach. The events consist of 1k 3k and 5k courses and are open to all ages. The ABSF also hosts other competitions including an annual club invitational competition and other meets. The list of events hosted in Antigua can be found here. For more information, be sure to contact the organization.
Recreational Watersports in Antigua
Whether you've got limited time or you have decided to make Antigua and Barbuda your home, you should take full advantage of the island and all it has to offer, especially the abundance of beaches. With so much water to enjoy, why limit yourself to only swimming? After all, you're here to enjoy yourself. From paddle-boarding to jetskiing, we highlight some of the best recreational watersports in Antigua.
Best non-motorized Antigua watersports
Sea Kayaking- This is one of the most popular watersports in Antigua. It Is well-liked by tourists and locals alike and kayaks can be spotted at many calm Antigua beaches including Valley Church beach and Seaforth Bay. The sport is quite easy and manageable and as stated earlier provides great health benefits.
Wind/Kite Surfing– Windsurfing or Kite surfing in Antigua is also a popular sport but requires a bit more physical commitment. Kitesurfing experts frequently come to Antigua because of the numerous beaches that accommodate the sports. Kitesurf Antigua is a company that provides kitesurfing classes, and rents equipment for interested individuals. Some of the best beaches for Kitesurfing include Half-moon Bay, Dutchman's Bay, and Jabberwock Beach.
Sailing and Yachting– On several beaches in Antigua, you may see yachts and sailing boats dotted on the water. These may also be visible when you are enjoying hiking views from the heights of the island. Yachting is a major part of Antiguan culture and over the years the island has hosted many events for sailing fanatics including the Antigua Sailing Week.
Other fun non-motorized watersports include:
Stand-up paddle boarding
Beach Volleyball
Snorkeling
Swimming
Sport-Fishing
Best Motorized Antigua Watersports
Jet-Skiing- Whenever you go to a beach in Antigua, you may be approached by a vendor encouraging you to try a jet ski ride. This is an adrenaline-pumping activity that will have you experiencing Antigua's water in a whole new way. Jet Skis can be seen racing across the ocean at several beaches in Antigua but are more popular on the West coast where the calm waters permit such sports.
Boating- Boating is a great way to experience Antigua's coasts and offshore islands. Boats can be personally rented, or boat tours can be organized. Most tours take you to other beaches and mesmerizing small uninhabited islands including Bird Island, Green Island, and Redonda. Some tour operators also offer additional watersports to enhance the experience including banana boats, snorkeling, and wakeboarding.
Relocate Antigua will assist you in organizing your Antigua boat tour and help you acquire any watersport equipment that you need to explore Antigua's iridescent waters. Get in touch with us today!
Conclusion
Antigua beaches offer the opportunity to engage in numerous types of watersports. From swimming to jet skiing, many options will satisfy your adventurous spirit. Relocate Antigua can help you take full advantage of Antigua watersports. We will connect you with the right people to provide you with equipment and guidance for your watersport activities. Get in touch with us and let us know what you need.