In today's world, gaining second citizenship is a popular decision. But why? Well, besides having incredible travel benefits, dual citizenship offers a doorway to a new and improved lifestyle outside of busy city life. Some other significant benefits include: 
Tax Benefits  
Business investment opportunities 
Property Ownership  
Education opportunities  
For more in-depth insights into all sides of dual citizenship, check out our Pros and Cons of Dual Citizenship article. 
Gaining a second passport through investing might not be as complicated as you may assume, generally requiring you to either be a descent of a resident or citizen or being able to meet the specified requirements of the country- most commonly through a substantial investment in the country's economy.
Want to know more? Read our article on how to acquire dual citizenship by investing. Throughout the world, there are many countries offering residency and citizenship by Investment, each specially tailored to accommodate every unique situation. But choosing one requires you to be fully informed about the pros, cons, perks, and procedures. In this article, we have compiled the best CIPs for 2021 for you with all the details and advantages.
Selection criteria for a Citizenship By Investment
More and more, people are working to capitalize on second passport programs and enjoy the plethora of benefits found therein. The motivation may be due to a personal desire to have a change of pace, to be able to call a tropical island home, or to get away from the stringent immigration and tax standards in their home country.
Whatever the reason, these programs have been developed to allow easy investment and relocation. In the process of analyzing the programs, however, there is a set criterion that contributes to the selection evaluation of the best citizenship through investment programs around the world:
Types of investments: The most important factor to consider when choosing a CIP is the list of options available. Different countries offer different options each with its unique stipulations and benefits. For example, Antigua and Barbuda and St. Lucia programs offer an option to invest in a local fund, while Cyprus offers investment in government bonds.
Minimal Investment amount: Obtaining a second passport can be very costly, but with the rise of investment programs tailored for every budget, people are finding it easier to embark on the dual citizenship journey. For example, Antigua's minimum investment is US$100,000, while investors in Cyprus are charged a minimum of about US$2.24 million.
Freedom of movement: Another major factor involved in the selection of a CIP is the advantage of the freedom of movement. Where will you be able to go? How long can you stay? Will you require a Visa? Ultimately, one of the main reasons for seeking dual citizenship is for the benefit of visa-free access to other countries so assessing which country has the best travel allowance is vital in the overall selection.
Mandatory Travel or Residency: Some CIPs require the applicant to spend a certain amount of time in the country before approval of the application. In Monaco, a residence for 10 years must be achieved before one can acquire citizenship. Some countries, however, do not have these requirements; in Grenada, applicants don't even have to set foot in the country.
Processing Fees: Finally, the factor of the fees. All CIPs require a processing fee, some heavier than others. The fee amount is based on whether you are applying solo or for yourself and your family.
Selecting which CIP program is best for you will not be a headache with Relocate Antigua by your side. We will assist you with all the necessary guidance through our VIP services, ensuring that your application is processed correctly and that you acquire your second citizenship with no stress. Get in touch with us soon!
Best Citizenship By Investment Programs worldwide
Which caribbean countries offer citizenship by investment
The Caribbean is a beautiful and peaceful place to call home and more and more people from all over the world are trying out Caribbean citizenship by investment. But just how many Caribbean countries offer citizenship by investment programs? There are at least five countries in the Caribbean offering this incredible opportunity.
St. Kitts and Nevis: This beautiful Caribbean country also has an affordable program where there is no travel or residence requirement and is a fast process with an Accelerated application process. St Kitts citizenship also benefits you with visa-free access to over 100 countries.
Dominica citizenship by investment: Similar to Antigua and Barbuda, Dominica's CIP is one of the lowest in the Caribbean, and ranks first on the CBI index and second on the Arton's index. The Dominican passport allows for Visa-free access to 125 countries and doesn't exclude applicants from any country. The minimum investment is $100,000.00 and the process takes from 3-6 months.
Grenada citizenship by investment: Grenada boasts as one of the top Caribbean CIPs, with a 2-month application process duration and no travel or residence requirements. Grenadian citizens can apply for an E-2 Visa which will allow them to travel to China for up to 30 days. The minimum investment is US$150,000.00.
Antigua and Barbuda citizenship by investment: At the very top of the Arton Index list, Antigua and Barbuda Citizenship by investment program ranks amongst the best Caribbean Citizenship Programs and offers the lowest minimum investment as well as a speedy application process. The program also comes with several benefits including a tax residency program, CARICOM membership, Citizenship for family, and Visa-Free access to over 160 countries including the Schengen zone. Cost starts at US$100,000.00 and the processing time is up to 3 months. Antigua and Barbuda remain one of the best countries for investment.
St. Lucia citizenship by investment: St. Lucia is new to the CIP train but has quickly made its way to the list of the best programs, and has a minimum investment of US$100,000. With a 56 day processing time, it is the fastest program in the Caribbean. There is no residency requirement meaning you can go through your application process from abroad.
Citizenship by investment is one of the simpler ways to obtain a second citizenship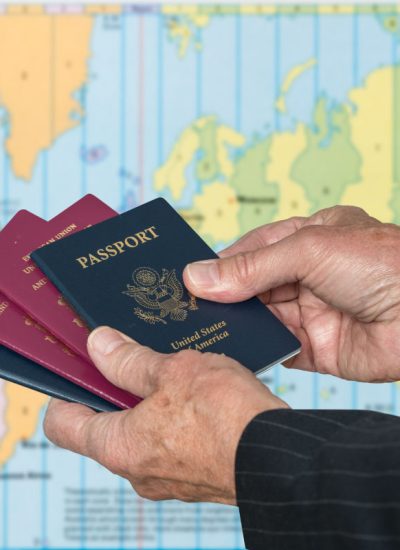 Other programs
Malta: If you research the top 10 citizenship by investment worldwide, you are bound to find Malta on the list. As one of the best EU CIPs, Malta offers an incredible program that grants freedom of movement to about 180 countries and benefits your entire family. Although it is amongst the more pricy programs, a European Union passport is definitely worth the minimum investment of about US$500,000.
Cyprus citizenship by investment: One of the most costly programs at a whopping 2 million USD. The Cyprus citizenship program attracts loads of investors yearly, allowing a fast pathway to the European lifestyle desired by so many. Benefits of Cyprus citizenship include:
Ability to reside and work in the 28 EU states.
Visa-Free travel to 173 countries
Inclusion of dependents and spouse
High standard of education and healthcare
Investment options include real estate, stocks, or government bonds and there is a 6-month residency requirement. The Cyprus passport allows visa travels to about 174 countries and is one of the best European CIPs.
Turkey: This CIP program is particularly popular among Arab investors and requires an investment in real estate, approved enterprise, or government bonds. Some benefits of Turkish citizenship are:
Inclusion of dependents
Citizenship for life
No language requirement
No residency requirement
High standard of education and healthcare
Access to 111 countries excluding Canada, UK, and Schengen countries.
Applicants must apply for residency first, and upon approval, apply for citizenship. Applicants have also required to invest at least US$250,000.00 in real estate. The entire process takes from 3-6 months.
Montenegro Citizenship by investment: This is also one of the best EU CIPs as it offers several investment options including real estate, a donation to the government, and the economy of Montenegro. Regarding the process, it is relatively speedy and requires no language test or interview.
Canada- Canada is known to be one of the safest places to live in the world, with low crime rates, great education systems, incredible infrastructure, and peaceful environments. The Canadian government offers a nationality by investment program called the Quebec Immigrant Investor program in which the individual must have a net worth of 2 million dollars and make an investment of 1,200,000 Canadian dollars for 5 years and show interest to reside in Quebec. The Canada Citizenship investment program can take at least a year to process making it one of the lengthiest but also comes with great benefits such as healthcare and access to a great education.
Mauritius– This country is said to have one of the strongest economies and citizenship here offers multiple benefits including the inclusion of dependents and spouses. A non-refundable investment in the form of a donation to the Mauritius Sovereign Development Fund is required, or an investment in real estate of no less than $500,000.00, under the Property Development Scheme, the Integrated Resorts Scheme, or the Residential Estate Scheme. There is no tax on Capital gains or wealth here so individuals can enjoy a high level of financial freedom with the Mauritius Citizenship by Investment programs.
Australia– The Australian program is also very beneficial to investors as it provides visa-free travel to many countries, diversity of investments-meaning you can invest in different aspects to gain your dual citizenship, and incredible opportunities for you and your family if your choose to reside there including the ability to bring your family with you, the ability to diversify your investments, consular support when overseas, the right to vote, financial assistance, access to education, and in some cases tax management advantages.
Vanuatu: Vanuatu holds the place for the fastest CIP program in the world, with processes taking from 20-30 days compared to the 2–3-month duration for all the other countries. Vanuatu operates two citizenship by investment programs:
Development Support Program (DSP)
Honorary citizenship contribution program (VCP)
The process is also very easy and only requires a minimum investment of $130,000.00 to the program. Visa-free travel to 130 countries, including Russia, is also allowed.
Best European Citizenship by investment
The EU passport is one widely sought after, because of the incredible benefits of being a European citizen. As you may already know, buying citizenship in Europe is one of the best investments you can make. Some countries offer irresistible CIPs and we will take a look at some of the best EU CIPs but first, let's explore what being a European citizen could mean for you:
Visa-free Travel to the 28 European Union member states with no restrictions.
Full European working and residential rights.
Subsided education with tertiary scholarships.
Consular protection- in the event of an emergency, you will be protected the same as a European national.
Full health care benefits.
Voting rights and the ability to hold public servant positions.
Exclusive privacy especially for taxation purposes.
Ability to own property in the EU without the need for a permit.
Your children and grandchildren can inherit your citizenship.
Cyprus– Cyprus is an island country located in the eastern Mediterranean that offers one of the best Citizenship by investment Programs worldwide. The program, however maybe the most costly although the benefits are certainly worth it. For instance, Cypriots can enjoy visa-free travel to over 165 countries and can reside and work in 26 EU states. With a favorable standard of living, one of the lowest crime rates in the world, and excellent education systems, this country's program offers a remarkable opportunity for anyone seeking freedom and mobility. After naturalization, citizens will also benefit from free healthcare and free education in other European countries.
The program's minimum investment is a whopping 2 million euros, and the process takes between 6-8 months to complete. There is no residency requirement and options include approved real estate investment, investment in approved businesses, or investment in purchase units from an Alternative Investment Fund.
Malta- Also hidden in the paradisical Mediterranean is the beautiful and attractive island nation of Cyprus which offers a similar program to Cyprus'. Malta's program is ranked high for its visa-free travel allowances to over 180 countries worldwide. The program called Malta Individual Investor Program also offers full citizenship benefits to the applicant's family. The minimum investment is 350,000.00 euros and additional investment in the state fund or purchase of government bonds or stocks is also required.
Residency of one year is required after you obtain citizenship and the applicant will be able to migrate, live, and work elsewhere in the EU after such time. The entire application process takes between 7-8 months.
Bulgaria- The Bulgarian CIP offers full EU citizenship benefits and visa-free travel to over 170 countries including Canada. The minimum requirement for this program is 2 million euros and the application process takes at least 18 months. Although the country does not participate in the Schengen zone, it still has attractive benefits much like Malta and Cyprus including the ability to live and work in EU countries and great healthcare and education advantages.
Cheapest Citizenship by Investment programs in 2021 – 2022
As mentioned earlier, one of the ultimate factors that determine the selection for CIP programs is the cost. Relocate Antigua explores the cheapest citizenship by investment Programs worldwide:
1. St Lucia– US$100,000.00 contribution to state fund or US$300,000.00 investment in real estate.
2. Dominica– US$100,00.00 contribution to state fund or US$200,000.00 investment in real estate.
3. Antigua and Barbuda– US$100,000.00 contribution to state fund or US$400,000.00 for real estate.
Antigua and Barbuda Citizenship by Investment program
Sandy beaches, a peaceful environment, and incredible benefits make Antigua and Barbuda one of the best destinations for dual citizenship.
Antigua and Barbuda citizenship offer many benefits including:
Strong passport: easy access to over 160 countries, including the entire EU and the UK.
CARICOM membership
Opportunity for tax residency
Non-stringent residency requirement: During your first five years as a citizen, you are only required to spend five days in the country.
Citizenship for qualified family members
Antigua and barbuda citizenship requirements
Antigua's CIP program is especially attractive for its low investment cost. You can gain your Antigua citizenship by real estate investment which is the best option at a minimum cost of US$400,000 and has great choices of property to choose from.
Other options include:
Contribution to the NDF– A one-time minimum contribution of US$100,000 to the government's National Development fund.
Investment in approved businesses– A minimum investment into government-approved businesses of US$150,000.
Investment in UWI– A minimum investment of US$150,000 to the UWI. 
After your application has been approved, your Antigua and Barbuda passport will grant you visa-free travel to more than 160 countries including the Schengen zone and the UK. Your citizenship will be valid for 5 years and will only be considered for renewal after spending the mandatory 5 days in the country if you want to continue enjoying Antigua and Barbuda passport benefits.
When you travel to Antigua, be sure to take advantage of Relocate Antigua Concierge, VIP, and leisure services to make the best of your stay. Contact us for more information and ideas on how you can spend your 5 days in Antigua.
A little about Antigua
Sandy beaches, perfect weather, and exhilarating nature are just some of the things that make up Antigua and Barbuda, the twin-island state located in the West Indies. Antigua is known for its vibrant culture, breathtaking sunset views, pristine turquoise waters, and friendly people. Home to many prestigious resorts and hotels, Antigua can be considered the tourism hub of the Caribbean.
Conclusion
Obtaining second citizenship is in many ways an incredible venture. For those seeking to relocate, full citizenship benefits can be expected, with advantages of education, healthcare, and of course visa-free travel. Antigua and Barbuda had one of the best citizenship by investment 2020 programs.
Ready to proceed with Antigua and Barbuda Citizenship by Investment program? We'll be happy to explain the details and help you kick start the process! You can check out our article on Antigua CIP for more information.