It sounds too good to be true: to be able to live and work in two countries, possibly own property in both, and best of all, perhaps one of them is a tropical island with turquoise waters and sandy beaches?
If this sounds like a dream, it doesn't have to be. Many countries allow their citizens to enjoy the benefits of dual citizenship so they can be passport holders of two (or more) countries. Antigua and Barbuda is such a country. Read more about your options on the island in the article 'What is Citizenship by Investment (CIP) and how you can acquire it quickly' in our Magazine.
In most countries, you can obtain citizenship by descent if you or your parents were born in that country. If you move to another country and meet residency requirements, you may also be eligible to obtain the citizenship of that country through naturalisation. Some countries, like Antigua and Barbuda, now also offer the option of being awarded citizenship on the basis of an investment.
Naturally, like most things in life, holding dual citizenship comes with both advantages and disadvantages. Applying for a second passport therefore needs to be thoroughly considered. So what are the benefits of having dual citizenship? Let's take a look at the pros and cons, and at the options for becoming a citizen of Antigua and Barbuda in particular.
Advantages of dual citizenship
More and more people have started to realise that there are many benefits of dual citizenship and are investigating this option for themselves and their families. Better opportunities, a different lifestyle, economic advantages – the reasons are as diverse as the individuals that come to us to discuss their citizenship options.
Browse our Magazine for more information on dual citizenship.
So what are the advantages of dual citizenship?
Tax benefits
An obvious major advantage is potential tax benefits. Some countries have zero or low tax rates on overseas assets or don't tax international income at all, so you don't pay taxes in two countries. It's worth investigating if the country of your choice has favourable tax policies before you take the plunge. Besides, having your assets in another country can, of course, protect you from the consequences of potential inflation in your home country.
Simpler travel
Travelling becomes a lot simpler with more than one passport. Complex visa applications become redundant, and you get to enjoy visa-free or visa-on-arrival travel in many countries that may have otherwise not been accessible. In many cases, it's also cheaper to travel as a citizen than to apply for an often costly visa.
Business opportunities
Investing into businesses is often limited to citizens of a country. Being a passport holder can open many doors for you in the business world. Not only will you be legally eligible to make certain transactions commonly reserved for citizens, but you'll also be seen as a local by business partners and potential customers. It's also immediately obvious that you're entitled to work in the country in question if you're a citizen. This may come in useful for job applications, depending on your professional goals. A win/win situation!
Property ownership
Another one of the advantages of having dual citizenship is the option to purchase properties or land in your second country of residence. Many countries don't allow foreigners to buy property, so citizenship is a must if real estate is your thing. Not only would you be able to buy property as an investment, but you could also own two family homes and have a place of your own in both countries.
Contact the experienced real estate experts at Relocate Antigua today to discuss your needs and we'll be happy to help! Whether you are after a rental property, your own home or an investment, we've got you covered!
Education
Some countries, like Germany, offer free education for their citizens. This is definitely a major factor to consider when planning to take up a second citizenship. Young families with school-age children or university students, in particular, can enjoy immense benefits when they are citizens. You could potentially save tens of thousands of dollars on education-related fees – a massive plus on your pros and cons list!
Overview of pros:
Tax benefits
Simpler travel
Business opportunities
Property ownership
Education
Disadvantages of dual citizenship
Most people are well aware of the benefits to dual citizenship, but are there any disadvantages of dual citizenship too? Let's investigate!
Dual obligations
Unfortunately, dual benefits can also mean dual obligations. You'll naturally be bound by the laws of both countries of which you are a citizen. As some countries, like Germany, have mandatory military service or social service, you need to be aware of your duties to avoid penalties or losing your citizenship.
By the same token, you may lose your citizenship if you perform military duties in another country. Again, it pays to investigate beforehand to avoid problems down the track. Not being aware of your duties will not get you out of a tricky situation.
Double taxation
Although in many cases dual nationals benefit from tax breaks, there can be some disadvantages depending on the applicable tax laws. Some countries, like the United States, impose taxes on all their citizens, no matter which other citizenships they hold or where they live and earn their living.
So you may end up having to pay taxes on your earned income in two countries at the same time unless they have a double-taxation treaty in place that protects dual citizens from such a situation. It's definitely advisable that you do your homework in this respect before applying for dual citizenship!
Job limitations
Things can get tricky if you want to apply for a job in government. Very often, these require you to obtain security clearances and have only one nationality, namely that of the country in which you're applying for the job.
In Australia, for example, the Constitution stipulates that if you want to become a Member or a Senator in the Australian Parliament, you must only be a citizen of Australia and not hold dual citizenship.
Depending on your career goals, this should be investigated beforehand so you don't end up penalised or excluded from certain roles.
Complex process
If you aren't one of those lucky people who get to enjoy dual citizenship by descent or naturalisation, applying for an additional nationality can be a very complex and expensive undertaking.
In many countries, there are strict rules and regulations for such applications. The level of bureaucracy involved can be daunting and may even put some people off entirely.
Often, legal experts need to be involved, who also charge high fees in addition to the statutory application fees. Some potential applicants may be deterred by this complex process.
Overview of cons:
Dual obligations
Double taxation
Job limitations
Complex process
Check in with the experienced legal experts at Relocate Antigua today to discover our affordable legal services if you are considering becoming a citizen of Antigua.
Advantages of Antiguan citizenship
Antigua and Barbuda Citizenship by Investment Programme
The Antigua and Barbuda Citizenship by Investment Programme is a scheme that grants investors and their families full citizenship of Antigua and Barbuda. Investors have several options: they can either make a non-refundable contribution of $100,000 to the Antigua National Development Fund, or they can invest $400,000 in a government-approved real estate project (or $200,000 each for joint applications), or they can invest $1.5m in an approved business.
Applications can only be made through authorised agents such as Relocate Antigua. Processing times are very short, approximately three to four months.
If you are interested in becoming an Antiguan citizen, our experts at Relocate Antigua are ready to assist you in all matters related to the Citizenship by Investment Programme and advise you on all other immigration questions. Send us your enquiry to mail@relocateantigua.com today and we'll promptly get back to you.
Commonwealth membership
An Antiguan passport will make you a member of the Commonwealth, so you'll get to enjoy certain privileges in the UK and other Commonwealth countries. What's more, you will be able to travel visa-free or visa-on-arrival in 151 countries worldwide including in Europe's Schengen area. This means uncomplicated travel in 26 countries:
Austria
Belgium
Czech Republic
Denmark
Estonia
Finland
France
Germany
Greece
Hungary
Iceland
Italy
Latvia
Liechtenstein
Lithuania
Luxembourg
Malta
Netherlands
Norway
Poland
Portugal
Slovakia
Slovenia
Spain
Sweden
Switzerland.
Live in paradise
Who doesn't dream about living on a tropical island, relaxing on a white sandy beach, overlooking sparkling calm waters and taking in amazing views surrounded by lush green rainforests? Well, this no longer needs to remain a dream! If you decide to become a dual citizen and obtain an Antiguan passport, this tranquil scene will become your new reality!
With its excellent links to both Europe and North America, Antigua is a smart choice for a second home or business. Daily flights to most countries can conveniently take you to any destination around the globe.
Speak to our experienced travel experts today to find out more.
Citizenship by investment is one of the simpler ways to obtain a second citizenship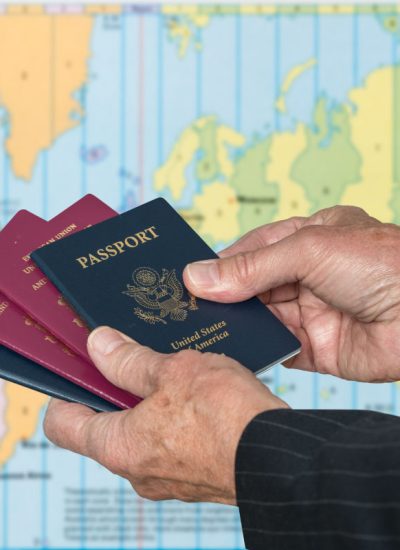 Summary of advantages and disadvantages of dual citizenship
As we have seen, there are both advantages and disadvantages of dual citizenship. On the whole, however, the pros do outweigh the potential cons. Especially when applying for citizenship in Antigua and Barbuda.
The islands' lifestyle is unparalleled, and the straightforward Citizenship by Investment Programme has the potential to open the door to many new residents and their families. Please read our guide to visas for Antigua if you want to explore your options and visit with your family before making any investments or lodging any applications.
If you have any questions at all about obtaining Antiguan citizenship, we invite you to call our friendly local Relocate Antigua experts on +1 268 736 3905 or email our team at mail@relocateantigua.com at any time.