Picture the scene. Waves lapping at your toes, an iced frappé in your hand, the endless blue of the horizon stretching out in front of you and just half an hour on the clock until you can wind down for the working day.
Becoming a digital nomad is right on up there on the bucket list for many, and with good reason. The opportunity to country-hop, exploring the world and visiting as many different continents as you can cram in, all while making money on the go – it's an irresistible idea, and one that is becoming increasingly within reach for those prepared to put in a little legwork before they start.
It would be naïve in the extreme to think that adopting the digital nomad way of life doesn't come with its own set of hurdles and challenges. But luckily, where there's a will, there's a way, and a little creative thinking and adaptability can go far.
Relocate Antigua whisks you away on a whirlwind tour of what it takes to become location-independent in 2020 and beyond.
Top reasons for becoming a digital nomad
There are as many reasons for becoming a digital nomad as there are people, but a few key sway points hold massive appeal for most. Read through our top reasons for making the jump, and reflect on how they align with your personal goals and who you are.
Work from anywhere in the world
There's an incredible sense of freedom that comes with opening up your laptop and making money online from a beauty-spot destination. It's common to feel trapped and stifled in a traditional office setting, and just the knowledge that you can ping off emails and get down to some serious graft while traveling around the world is an incredible feeling.
No more line managers, timetables, or compulsory working hours. Digital nomads are remote workers who live and work to their own beat. You'll have a responsibility towards your clients and to keeping your business sharp and healthy, but you'll be in control of your own routines, hours, and structures, too.
See places you'd never imagined
Part of the experience is hooking up with digital nomad groups, or the wider digital nomad community. Many tips, tricks, and destination ideas are passed on by word of mouth. A secret Caribbean island you'd never heard of before, the best place to work remotely in Japan (hint: it's not Tokyo!) and London's ultimate (and free) coworking spaces: these insights into squeezing the most out of the digital nomad lifestyle can lead you off the beaten path, and into uncharted territory you may never have considered before. An opportunity to see parts of the world that others haven't/
Travel without maxing out your credit card
Generally when people head off to travel, they'll be all too aware that they're spending money, not making it. Once-in-a-lifetime trips are expensive, and becoming a digital nomad is a chance to see more, while spending less. There's no better way of packing in as much adventure, without the hefty price tag.
How to be a digital nomad: an at-a-glance guide
"I want to be a digital nomad". "How do I become a digital nomad?". At Relocate Antigua, these are questions we hear on a daily basis in our work as relocation experts. And it makes sense.
If you could take off to work fewer hours on a desert island or vibrant city on the other side of the world, then why wouldn't you? Would-be digital nomads often stumble at the first hurdle: figuring out the practicalities of it all. And that's where we can help…
Do your research
Start by reading as much as you can around the digital nomad lifestyle. Develop an insatiable appetite for information, and when you think you can't soak up anymore, keep going!
Get reading for inspiration, check out a few websites to get a feel for the movement, sign up to newsletters and join communities to hit the ground running, and attend the many conferences, summits and bootcamps that are popping up around the world, for food for thought and making connections.
We've put together a quick guide to our favorite resources to get you up and running to start with.
| | | | |
| --- | --- | --- | --- |
| Books | Websites | Communities | Events |
| The Digital Nomad Survival Guide: How to Successfully Travel the World While Working Remotely Jam-packed full of handy information including apps, worksheets, and lists, laced through with the co-authors' own anecdotes. | Nomads Nation This incredible website offers up a smorgasbord of all things 100% digital nomad. The very best gear (from backpacks to tech), lists of top locations and travel blogs, and a hand-picked selection of amazing work/travel schemes. Go check it out. Now. | Nomad List Nomad List is one of the world's biggest online communities for digital nomads looking to connect with like-minded souls. | 7in7 This is a pretty amazing concept: seven conferences, in seven years, on seven continents. The next edition is coming up in October 2021, so start planning and book your tickets ahead of time. |
| WORK FROM HOME WHILE YOU ROAM: The Ultimate Guide to Jobs That Can Be Done From Anywhere Over 300 resources on snagging the perfect side gig, this is something of a bible when it comes to remote-working. The author has her own YouTube channel, too. | The Four-Hour Work Week Sign up to leading digital nomad author Tim Ferriss' awesome newsletter, and get free reading materials, app and tool ideas and productivity hacks delivered fresh to your inbox. | /r/digitalnomad/ Reddit's digital nomad sub is a lively, bustling place to get connecting and ask all your most pressing questions. We like the super easy pared-back interface and how fast people respond – with over 612,000 members already, it's no surprise. | Nomad City This annual event takes place in Gran Canaria, and is all about bringing together outstanding speakers and inspiring digital nomads – as well as curious souls. |
| The Digital Nomad Handbook An intensely readable (and illustrated) how-to guide from top travel publisher Lonely Planet. | Nomad Gate An online guide to everything you need to know about going nomad, from finances and digital nomad health insurance to retirement and savings tips. | Global Digital Nomad Network This Facebook group is a great way of keeping things simple and wasting less time on multiple social media platforms. Check in with over 45,000 members for insight into the movement. | Nomad Summit Nomad Summit is probably the single most high-impact event for digital nomads – an unmissable highlight for anyone interested in learning more. Summer 2021 will see the Summit crew head to Tbilisi, so book early to avoid disappointment. |
| Have Laptop, Will Travel: Memoirs of a Digital Nomad Here's something a little more whimsical for readers looking for a gentler introduction to the lifestyle. Billed as a male version of Eat, Pray, Love, this memoir is Nicozisis' account of life on the road, and makes for inspirational reading. | Digital Nomad Soul Brimming with top-notch information on everything from drop-shipping to passive income, this website is a go-to reference for the practicalities of nomadic living and doing business while you travel. | Work From This quirky platform is hugely popular, serving as a kind of online coffee shop to log on and work alongside remote workers from around the world. | Bansko Nomad Fest A community of freelancers, remote workers and digital nomads flock together for a week-long celebration of all things location-independent. Not to be missed… |
Test the waters and engage in self-reflection
There's no one-size-fits-all approach to going location-independent, and before you set off, it's worth experimenting closer to home and reflecting on your current lifestyle and aspirations.
Be honest with yourself and try to pinpoint what exactly you hope to get out of shifting lifestyles. Interact with digital nomads who have come before you, sign up for newsletters and blog updates, and experiment ahead of time.
Most of all, enjoy the ride! Planning is half the fun.
Are you more of a beach bum, or a city-lover? Does the idea of losing yourself in lush tropical forestland fill you with dread, or get you tingling with excitement? Do you want to get away from it all, or connect with others? Your digital nomad journey will probably take you to places you've never even heard of before, but start with a location that strikes a chord. Make sure you read our top guide to digital nomad best cities and destinations to get you started.
Start following blogs well ahead of time to get a feel for the lifestyle and avoid any potential pitfalls. We especially love Digital Nomad Soul's round-up of the 31 epic digital nomad blogs you have to read for a little taste of the good things to come.
Workations and coworking spaces
While coworking spaces need no introduction, workations are a little less well-known, and are a fantastic way of dipping your toe in the water before taking the plunge. The idea of a workation is to combine work and play in a vacation that offers state-of-the-art coworking spaces and a real sense of community.
Coconat Space in Germany is one of the best known, offering a chance to connect with like-minded people and soak up the goodness of a natural setting for a completely holistic experience.
If tropical island living is more your scene, then look no further than Roam's coliving and coworking retreat in Bali, where you can expect oceanside sunsets and luxury accommodation, complete with pool and yoga sessions thrown in for good measure.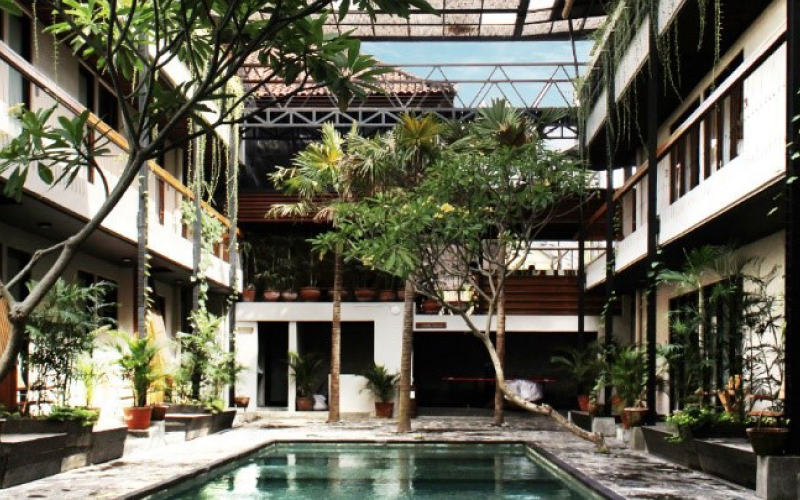 Hearing the call of bright lights and urban excitement? The Collective offers breathtakingly beautiful coliving spaces in London and New York, featuring ultra-slick coworking spaces, socials, libraries, and dining rooms for incredible experiences in the heart of two of the world's most thrilling cities.
Finally, braver souls might like to embark on the adventure of a lifetime: a year-long hop-on, hop-off program with Remote Year. The idea? Join a community of fellow nomads, working and making your way around the world one city at a time, with all the hard parts and planning left to the organizers.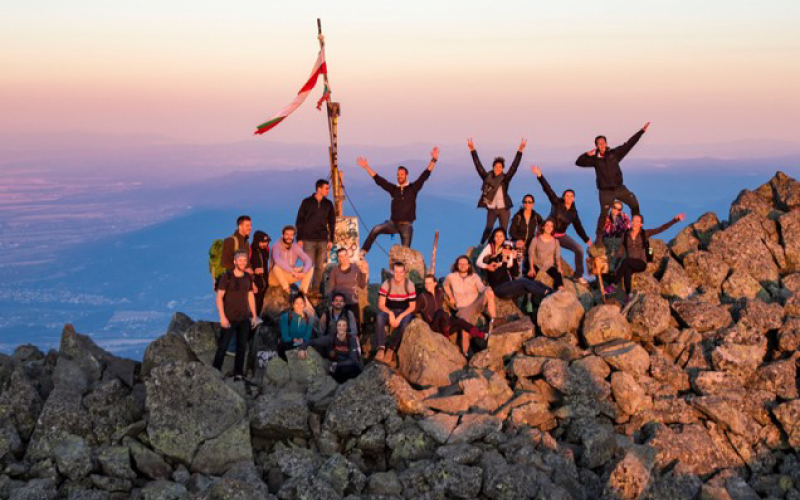 Start even smaller by checking out your local coworking space. Google Maps does a good job of searching your immediate vicinity, but the Coworker site is an excellent resource for planning ahead and searching and booking a space for you.
Most coworking spaces operate on a pay-as-you-go hourly basis, as well as offering higher-end whole-office monthly packages. Try a few to sample different vibes, and remember to stay open. Hang around the kitchen area and get talking to other remote workers for their insights, and make the most of evening or breakfast events hosted by your coworking space as a chance to network and connect.
Investigate digital nomad jobs
Once you've done a little reading and research, it's time to focus on the practicalities. The very first thing you'll need to organize before you pack your bags and book your tickets is how you plan on financing your experience.
Most digital nomads are freelancers and work on a self-employed basis, drawing on social media, professional networks, and specialist job boards to work from home.
It can take a while to hunt down freelance work, but once you get the ball rolling, you should find yourself with a steady, stable client-list who keep coming back for more.
If you're wondering how to be a digital nomad with no skills, then think again. Chances are you're already well equipped with qualifications and knowledge you can put to use in freelance work. Take your time considering what your salaried experience can bring to the table for prospective clients, and start building up a profile and portfolio before you launch.
Many digital nomads turn their hand to setting up start-ups and their own small businesses as a way of generating revenue and passive income from blog posts and social media activity.
Have a read through Relocate Antigua's dedicated digital nomad jobs guide for the low-down on the kind of work you might consider taking on, and where to find the gigs you need to keep your bank balance in good shape.
Look into digital nomad business registration
…as well as digital nomad banking, digital nomad travel insurance, and all that other fun stuff. We know, we know. This isn't exactly the most exciting part of the process, but it's absolutely crucial you get your financial and administrative life whipped into shape before packing it all in and heading off for sunnier climes.
Banking is equally important. You'll need an online bank or neobank for seamless on-the-go transactions and everyday banking services. Transferwise is now offering a game-changing borderless bank account aimed at travelers and freelancers, while German provider N26 is revolutionizing the banking scene with its 100% mobile, paperless banking solution.
Don't forget how useful credit cards can be, too – when you're alone in a foreign country you don't know so well and something goes wrong (fingers crossed it doesn't!) a credit card can be a lifesaver. Talk to your current banking provider for information on what they offer location-independent clients, and the international services (and fees…) you can expect.
Relocate Antigua has years of experience in handling fiscal, financial, and administrative matters on behalf of our clients. From account opening and banking and online banking advice, to guidance on digital assets and investment schemes that good benefit your new life as a digital nomad – we've got you covered. Get in touch, and let's start planning together.
Get medical check-ups, vaccines, and digital nomad health insurance
The last thing you want is a health crisis when you're abroad and unfamiliar with the local medical systems. When you go remote, it's essential you look into tailored healthcare policies that fit your new lifestyle.
Safety Wing is currently one of the only specialist insurance providers to offer specific nomad medical insurance, covering location-independent policyholders wherever they are in the world, starting at USD$40 per month. They also offer a remote health service and package, too.
Why you should be a digital nomad in Antigua
We can't pretend otherwise: we were always going to be slightly biased! But then when you live on a gorgeous Caribbean island steeped in culture and buoyed by generous tax breaks and citizenship schemes, it's hard not to be.
Becoming a digital nomad ticks all the right boxes, and here's why…
A brand-new digital nomad visa
New for this year, the dual-nation island of Antigua and Barbuda has just launched its long-stay "Nomad Digital Residence Programme" for remote workers with offshore employers and an annual income of over USD$50,000.
The visa gives you access to two years' residency, and costs USD$1,500 to apply (rising to USD$2,000 and USD$3,000 for a couple and a family, respectively). The best part of the scheme? Applicants won't be liable for income tax in Antigua.
For more details on eligibility and to apply for the visa, head on over to the (slick and new) official government website.
Don't forget that Relocate Antigua has extensive experience in handling paperwork for visas in Antigua and Barbuda, and can take the headache out of applying for you. Give our dedicated team a call for help filling in your forms and making the jump.
Interested to apply for your Nomad Digital Residence?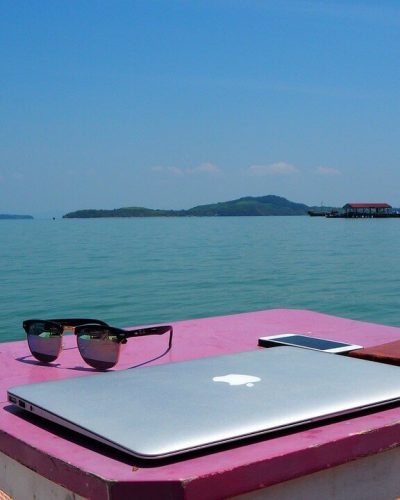 Mind-blowing views
Antigua goes hand in hand with some of the world's most spectacular white-sand beaches, crystal-clear ocean views and dazzling blue skies. Time after time, we've seen clients fall head over heels for this little slice of Caribbean paradise – it's why we call the island home, after all.
Browse the Relocate Antigua magazine for inspiration and ideas. From the quiet, aquamarine waters of Valley Church Beach, to the hustle and bustle of Dickenson Bay, we hate to use a cliché, but it has to be said: you'll be spoiled for choice here.
Culture and community
There's a thrill in the air in Antigua. Between authentic Caribbean warmth and a lively, active expat community, perhaps what we love most about the island is how it strikes the perfect balance between tranquility, and a cultural and social scene.
Cool off in a secluded cove or gaze out over the ocean views from the private terrace of your luxury villa, before heading out for the evening for al fresco dining in Saint John's with friends – an opportunity to soak up a little city nightlife.
Check out Relocate Antigua's guide on what to do in Antigua and Barbuda, our round-up of the best Antigua scuba-diving sites, and our thoughts on Antiguan beaches.
Incredible citizenship opportunities
One of the biggest draws of Antigua and Barbuda are its citizenship by investment and residency by investment schemes, offering visitors the opportunity to gain nationality or permanent residence by investing in real estate or business on the island.
These two programs are well worth considering as a natural extension of the two-year digital nomad visa, for visitors who develop a taste for this special Caribbean bolt hole.
They may not be top of your priority list when just starting out as a location-independent professional, but they're definitely worth bearing in mind.
An Antigua and Barbuda passport gives its holder visa-free access to over 150 countries: not to be sniffed at if your long-term goal is global travel.
Relocate Antigua
That's right – us. You might laugh, but hear us out! As seasoned handholders and expat experts in Antigua and Barbuda, we serve as your one-stop shop for getting to grips with island living. Antigua is safe, English-speaking, and absolutely stunning to boot – and with us by your side, you'll find the transition seamless.
Work with your own dedicated advisor to get your residence and citizenship paperwork in order, secure any work permits and certified translations you might need, and let us handle renting you your perfect home, too.
Think of us as a friend, ally, and guardian angel in helping you craft your dream lifestyle. This kind of turnkey service in such an idyllic setting makes for the ideal starting point when you're looking to start out as a digital nomad in an Instagrammable location with minimal risk.
Send us an email or give us a call for a tailored assessment of what we can do for you.
Interested to apply for your Nomad Digital Residence?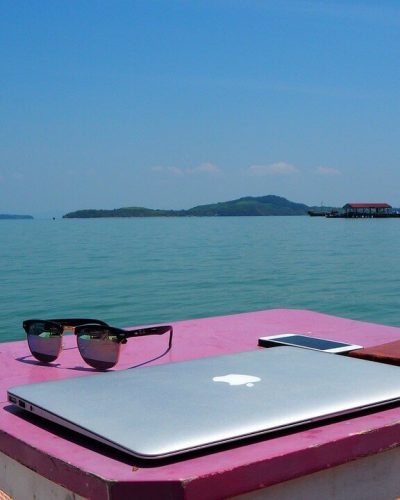 Final thoughts: careful planning with space to dream
Becoming a digital nomad requires hard graft before you leave home. While beguiling visions of tropical beaches and cloudless skies can lure you into thinking the experience will be a bump-free road-trip of a lifetime, you'll need to plan ahead all the same.
Taxes, insurance, work, banking, accommodation, work permits, visas and residency schemes all form the backbone to successfully shaping a digital nomad lifestyle that works for you.
As experts in helping dreamers turn their plans into results, Relocate Antigua has the experience you need to make it happen. Reach out to our dedicated team for a zero-commitment consultation to see where we could take you.